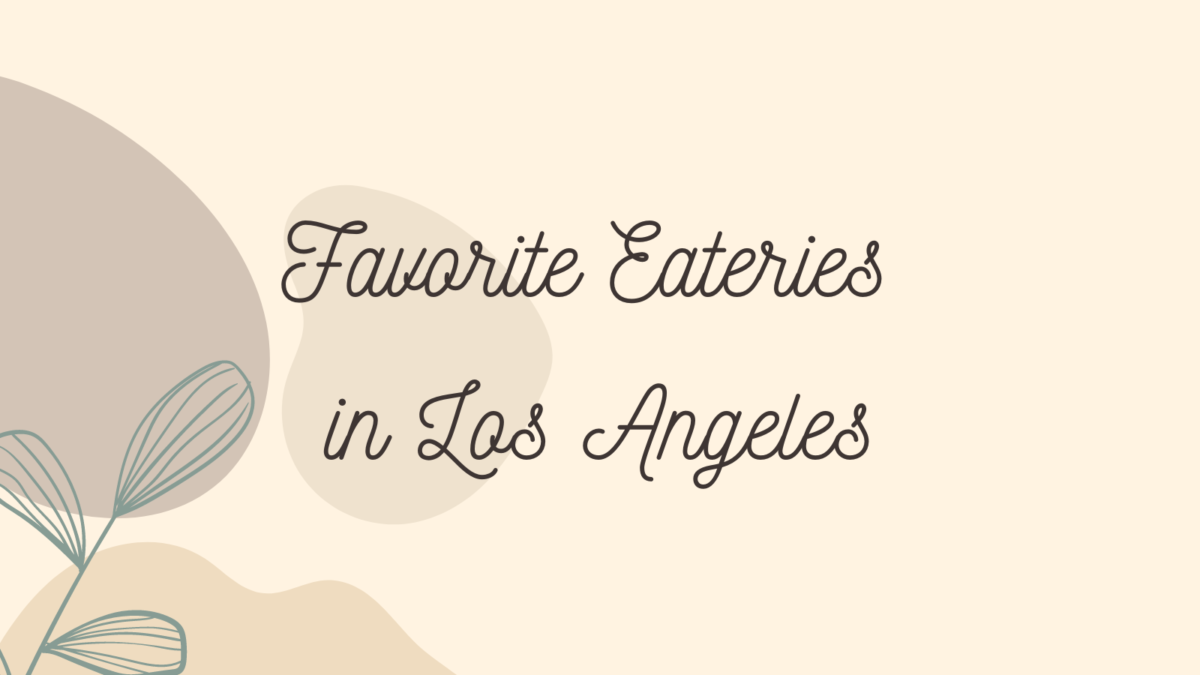 Favorite Eateries in Los Angeles
The amazing thing about Los Angeles is the diverse selection when it comes to food. There are delicious options whether you're looking for something simple, ethnic, or bougie. Being born and raised in Los Angeles, I've been around and found some noteworthy places. Whenever someone visits Los Angeles, I'm asked for recommendations. I finally decided to put together a list of my favorites for you to choose from. Bon appetite!
Some establishments may have associated blog posts I've published in the past, in case you want to check more into it.
This list was curated based on my actual positive experiences at these establishments. I was not compensated to include any businesses here. There is no intention behind the order of the establishments.
Last Updated: May 5, 2023
strictly breakfast
---
Eggslut
252 S Brand Blvd D
Glendale, CA 91204
🍳 the Fairfax has the best scrambled egg sandie
Lavender & Honey
1383 E Washington Blvd
Pasadena, CA 91104
🍯 artisan sandwiches and coffee for breakfast
Republik Coffee
854 E Green St
Pasadena, CA 91101
🥐 chill coffee shop vibe; enjoy coffee with smoked salmon
meals (brunch, lunch, and dinner)
---
"West Side" Los Angeles
Providence
5955 Melrose Ave
Los Angeles, CA 90038
🎕 two michelin stars, an incredible experience and journey with food
Izakaya Tora
8908 Santa Monica Blvd
West Hollywood, CA 90069
🍣 definitely try out their omakase, tora bowl, or skewers
République
624 S La Brea Ave
Los Angeles, CA 90036
🥐 amazing brunch options; highly recommend the french toast
MediCi
14612 Ventura Blvd
Sherman Oaks, CA 91403
🍕 honestly, where i fell in love with neapolitan pizza
Gucci Osteria da Massimo Bottura
347 N Rodeo Dr
Beverly Hills, CA 90210
🍝 you're here because it's a gucci restaurant and love massimo's work
Elio's Wood Fire Pizza
2517 Sunset Blvd
Los Angeles, CA 90026
🍕 the best street vendor with a portable woodfire oven for tasty pizza
Downtown Los Angeles
Bottega Louie
700 S Grand Ave
Los Angeles, CA 90017
🤌 amazing pasta, pizza, and desserts. their trenne has been the best i've tasted
Maragame Monzo
329 1st St
Los Angeles, CA 90012
🍜 the best uni udon i've had – creamy broth, udon, uni, and ikura. the best combination
Girl & the Goat
555-3 Mateo St
Los Angeles, CA 90013
🍩 if a donut and a churro had a baby is goated… get it?
LA Cha Cha Chá
812 E 3rd St
Los Angeles, CA 90013
💡 amazing rooftop vibes with a mexican-inspired menu
North-East Los Angeles
Bacari Silverlake
3626 Sunset Blvd
Los Angeles, CA 90026
🌲 you don't build trees around a restaurant. you build a restaurant around a huge tree
Lady Byrd Cafe
2100 Echo Park Ave
Los Angeles, CA 90026
🪶 you get to dine in these cute little private greenhouses, like a lady bird
Golden Road Brewery
5410 W San Fernando Rd
Los Angeles, CA 90039
🍺 my favorite outdoor pub, great for game days and bringing the pups out
Glendale
Raffi's Place
211 E Broadway
Glendale, CA 91205
🧆 my favorite persian restaurant – check out the shish kabob and koobideh
Fish King
722 N Glendale Ave
Glendale, CA 91206
🐟 better poke and seafood than foodland in Hawaii
Pasadena
Oji Sushi & Sake Bar
624 E Colorado Blvd
Pasadena, CA 91101
🍣 one of the only times i would ever order seared nigiri
Aikan Sushi & Ramen
735 E Green St
Pasadena, CA 91101
🍣 my favorite all-you-can-eat sushi restaurant with $1 beer
Granville
270 S Lake Ave
Pasadena, CA 91101
🍸 enjoy great meals with an amazing rooftop view of the san gabriel mountains
The Arbour
527 S Lake Ave #120
Pasadena, CA 91101
🥩 fresh from farm to table and love their 38oz bone in ribeye
Sushi Enya
124 E Colorado Blvd
Pasadena, CA 91105
🍣 a very omakase and a la carte nigiri restaurant
Foothill Restaurant
2835 E Foothill Blvd
Pasadena, CA 91107
🥘 great for all meals of the day and cocktails. chill vibes
Houston's
320 S Arroyo Pkwy
Pasadena, CA 91105
🥩 their boneless ribeye was chef's kiss. still thinking about it to this day
The Luggage Room Pizzeria
260 S Raymond Ave
Pasadena, CA 91105
🍕 great place to hang out, share a pizza, and drink beer
Kaviar
70 N Raymond Ave #250
Pasadena, CA 91103
🍣 high end sushi restaurant, it's all about the presentation
Sugarfish
146 S Lake Ave #108
Pasadena, CA 91101
🍣 one of the most affordable omakase you can rely on
Magnolia House
492 S Lake Ave
Pasadena, CA 91101
🥘 favorite place for all meals of the day and cocktails
San Gabriel Valley
Din Tai Fung
400 S Baldwin Ave #M5
Arcadia, CA 91007
🥟 my favorite place for fancy xiaolongbao and sharable dumplings/noodles
Savoy Kitchen
138 E Valley Blvd
Alhambra, CA 91801
🍗 the only place i can rely on for delicious hainan chicken
NBC Seafood
404 S Atlantic Blvd
Monterey Park, CA 91754
🥟 i just want a rollie, rollie, rollie dim sum cart
Ixtaco Taqueria
10021 Valley Blvd
El Monte, CA 91731
🌮 my favorite place to order tacos; comes with fresh handmade tortillas
Sushi Kisen
1108 S Baldwin Ave B6
Arcadia, CA 91007
🍣 really high quality, legit japanese, and mouthwatering selections
Golden Deli
815 W Las Tunas Dr
San Gabriel, CA 91776
🍜 one of the best pho out there besides my mom's cooking
Atlantic Seafood and Dim Sum
500 N Atlantic Blvd suite 200
Monterey Park, CA 91754
🥟 another dim sum cart – get your har gow and siu mai
Ji Rong Peking Duck
8450 Valley Blvd. Ste 115
Rosemead, CA 91770
🍗 one of the best places to find legit peking duck
Opus Sushi
1027 S Baldwin Ave
Arcadia, CA 91007
🍣 hole in the wall for high quality sashimi, nigiri, and chirashi bowls
Bistro Na's
9055 Las Tunas Dr #105
Temple City, CA 91780
🍖 highly recommend the na's prime angus rib and drunken chicken
Summer Rolls
9016 Mission Dr
Rosemead, CA 91770
🍲 full of amazing vietnamese selections; love their nem nuong and nem chua
Banh Mi My Tho
304 W Valley Blvd
Alhambra, CA 91801
🥖 if not, the best banh mi – rec' dac biet or nem nuong banh mi
dessert
---
Porto's Bakery and Cafe
315 N Brand Blvd
Glendale, CA 91203
🥐 highly recommend their potato balls, pastries, and dessert
Chicha San Chen
301 W Valley Blvd #116
San Gabriel, CA 91776
🧋 fresh brown milk with brown sugar bubble, always
Carrara's
75 W Walnut St
Pasadena, CA 91103
🍰 amazing place for cakes of any occasion and mini desserts
Xing Fu Tang
1468 E Valley Blvd
Alhambra, CA 91801
🧋 shitty parking lot but tasty brown sugar boba
Tiger Sugar
18330 Colima Rd
Rowland Heights, CA 91748
🧋 i would drive 30 minutes for a brown sugar pearl milk tea
Art's Bakery & Cafe
1122 E Chevy Chase Dr
Glendale, CA 91205
🍰 delicious ponchik, perashki, and baked goods