Beverly Hills Guide to Gucci Osteria da Massimo Bottura
Last month, I had lunch at Gucci Osteria da Massimo Bottura in Beverly Hills, California. If you don't know who Chef Massimo Bottura is, you need to watch Chef's Table – Season 1 Episode 1. Gucci Osteria recently received its first Michelin Star, and this is where high fashion meets high-end dining. I've always wanted to visit Chef Massimo Bottura's three Michelin star restaurant in Italy, but Beverly Hills is a lot closer. It's not about the food, it's about the whole concept behind the food that makes it far more interesting.
Dining at the restaurant is a whole different experience. It may be because I don't have much experience with high-end dining. I'm impressed by the service, environment, and food. The level of detail Gucci Osteria goes down to include the table mat being Gucci branded, and even the staff wearing Gucci socks. Between courses, the staff would wipe down our table and sweep away crumbs. The staff makes sure you're not just dining, but going through a journey.
Starting your journey at Gucci Osteria
You start off with a palette cleanse. This is a simplified version of Bottura's famous "Five ages of Parmigiano". We had a cheese crisp with potato cream, which was a great way to kick off the experience. The flavor was strong and makes you forget what you had before. Of course, you're served a platter of bread with delicious butter and almond ricotta. They're not any ordinary starters; you cannot get this anywhere else.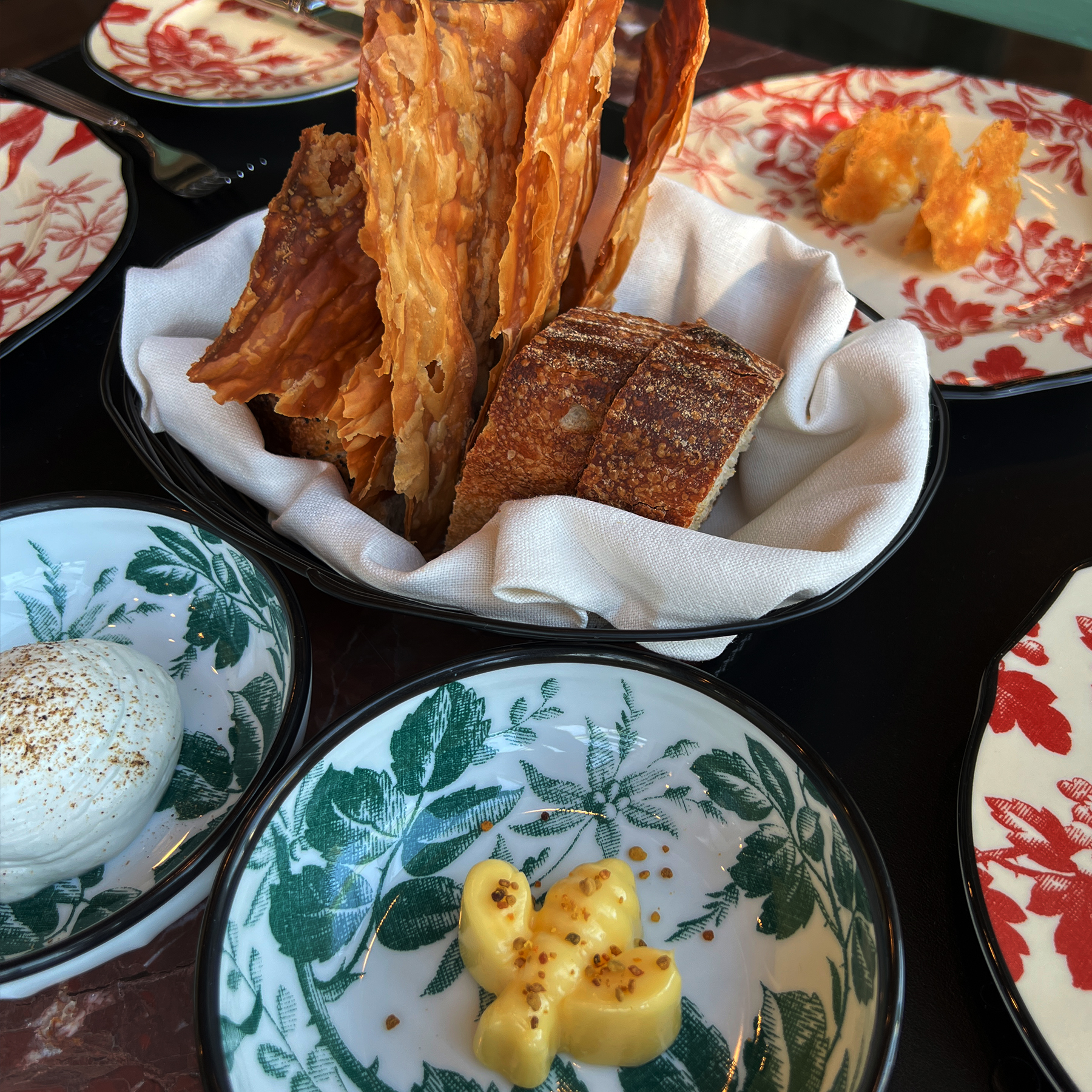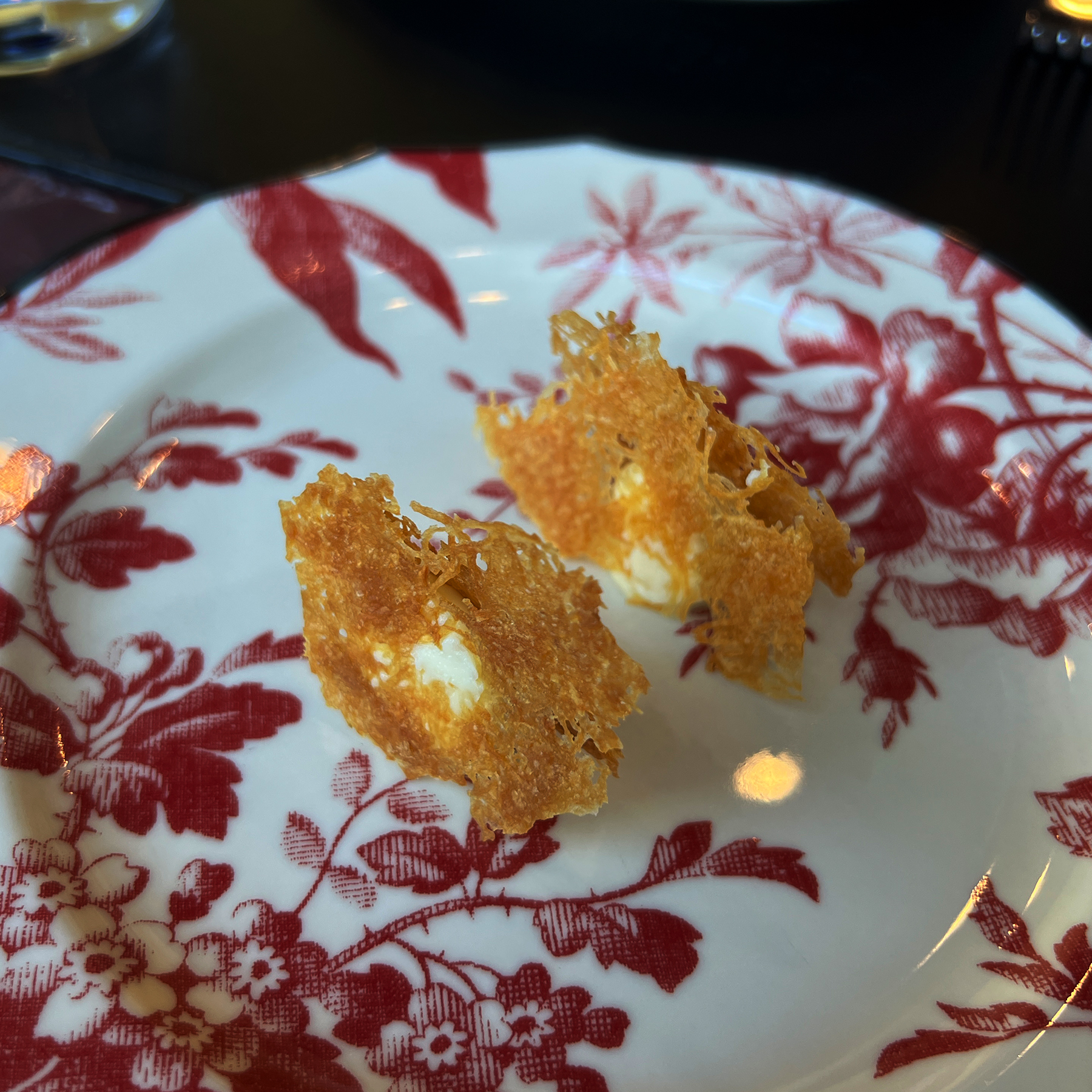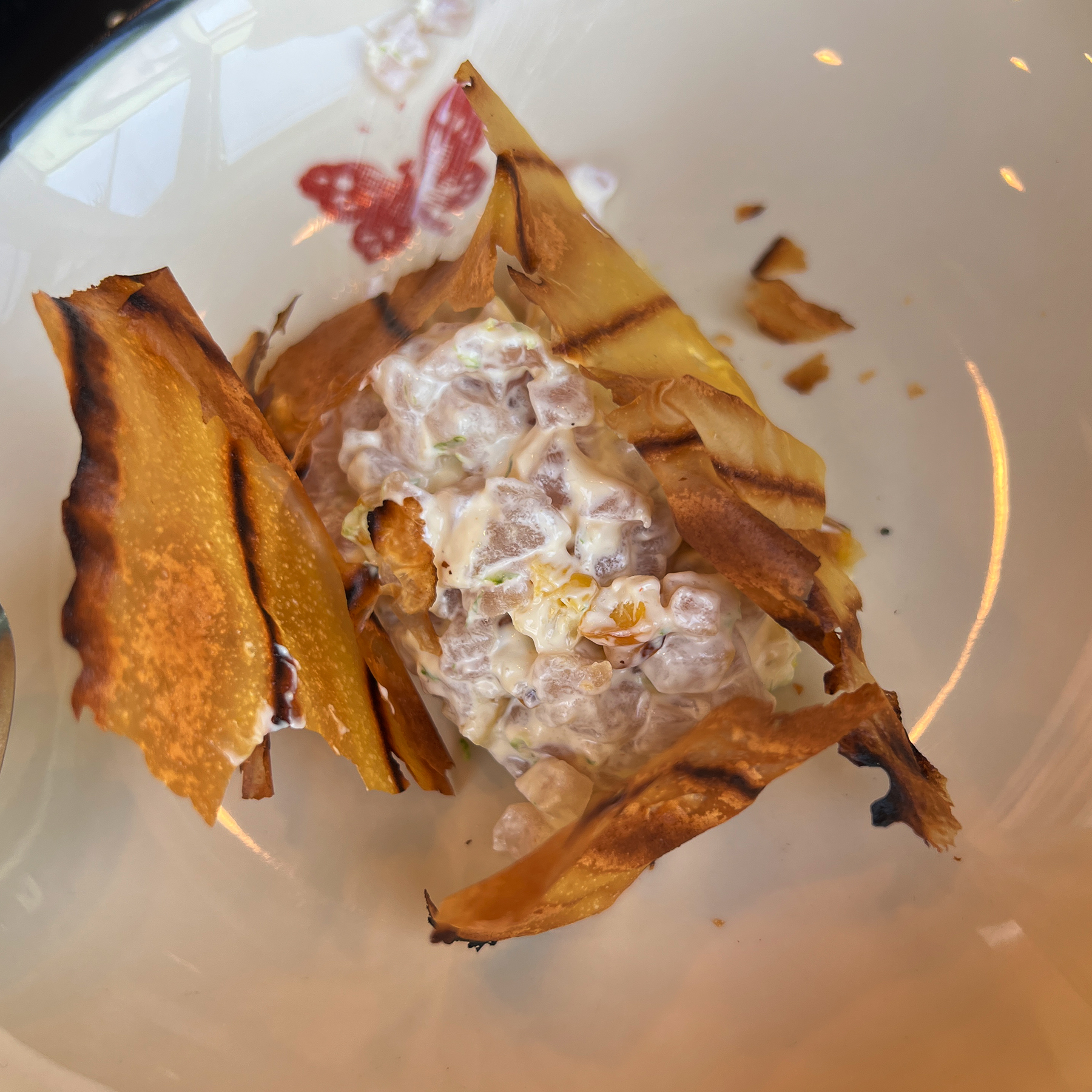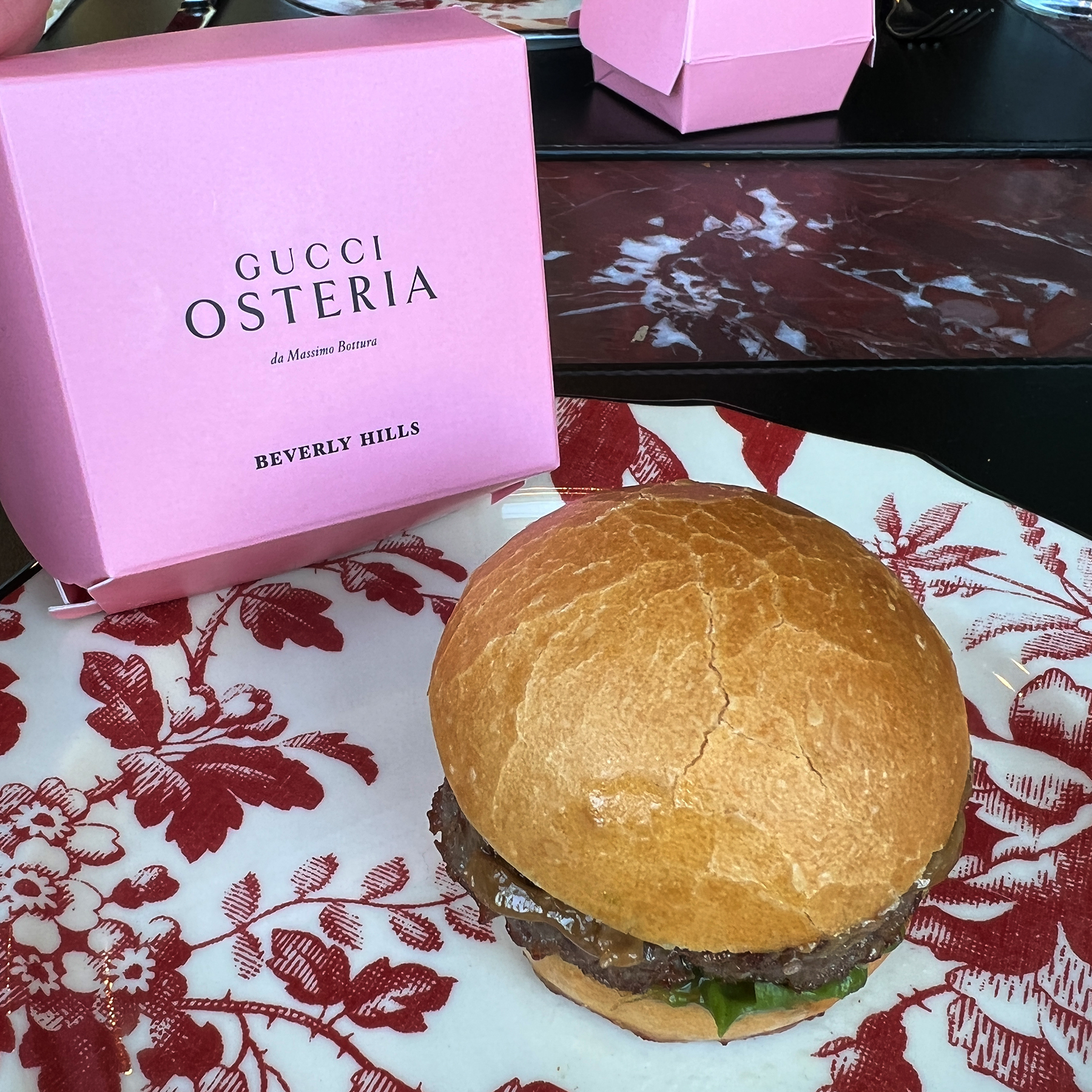 Taste a bit of everything
We ordered three courses to share. They were all amazing in their own world:
Fish "Elote" Tartare (above): You can never go wrong with tartare.
Risotto Camoflauged as Pizza (below): We legitimately thought this was a pizza because we totally missed the risotto part. Risotto is an Italian rice dish, and here, we have different toppings that mimics a pizza. If you close your eyes, you should imagine yourself eating a slice of pizza as you experience this dish. I enjoyed the different elements this plate brought.
SoCal Spaghetto Splash Works (below): Mixing crab, scallops, caviar, and cold pasta made this plate a superstar. It has been a long time since I've had caviar and the combination was 10/10. Definitely one of the higher-end options on the menu, but totally worth it.
We also ordered our own "Mini Me" (above), which is a smaller version of their Emilia Burger, containing beef ribeye, cotechino, salsa verde, and balsamic mayonnaise. This came in a gorgeous pink burger box, and our first reaction to the burger was: "This looks like a Krabby Patty". This is Massimo's concept of a Michelin star chef's burger. All of the different ingredients contributed to balanced umami. I loved how rich the buns tasted, which is usually my biggest point of critique.
You have the option of also ordering their "Tasting Menu", which gives you a 5-7 course meal over their menu selections.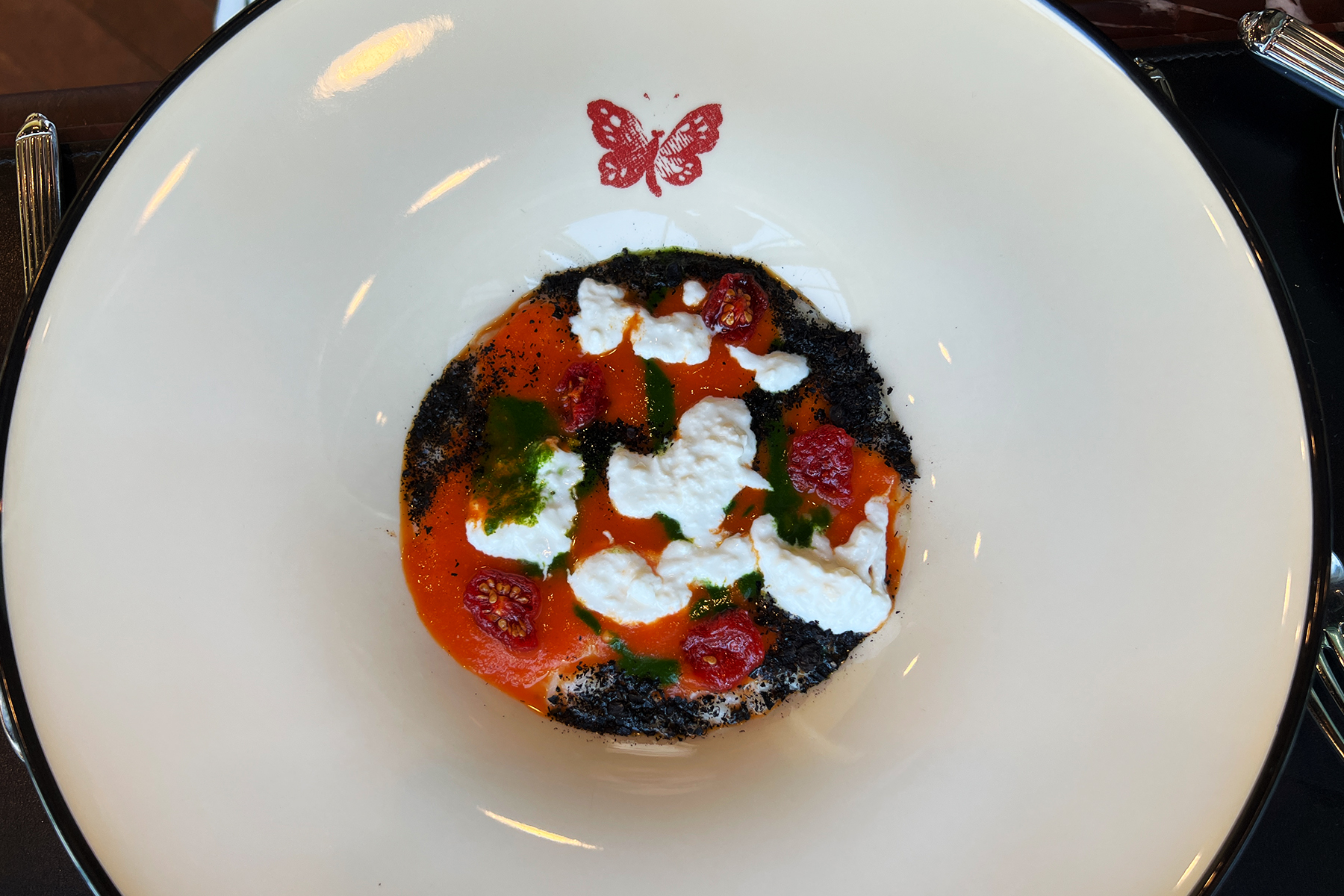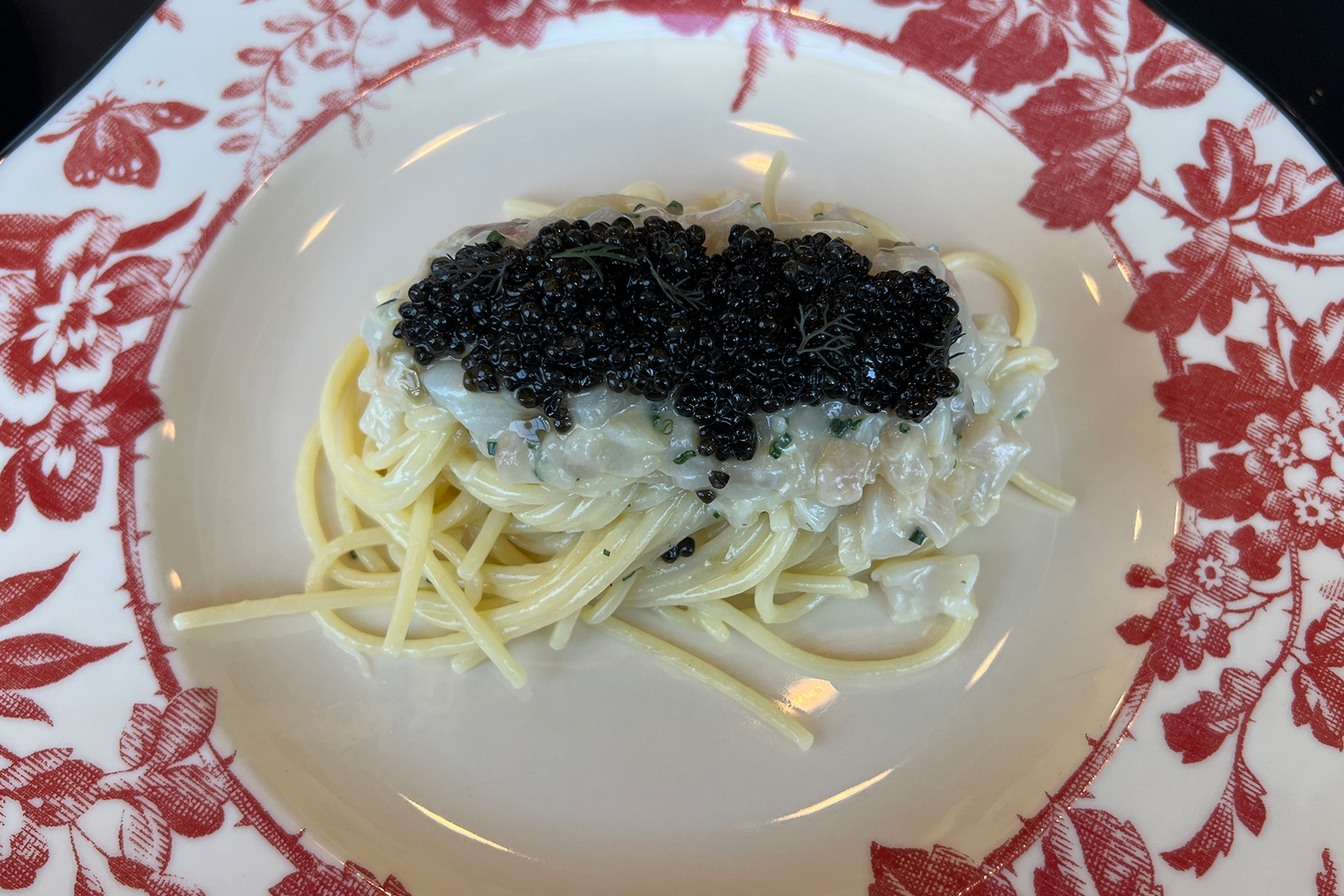 Gucci's Send-Off
When you finish your meal, they give you some complimentary pastries. The chocolate tasted unique, and has pistachio in between. The cream puffs on the other hand, had liquor laced in the middle. The flavor was so strong, this is no ordinary alcoholic baked goods.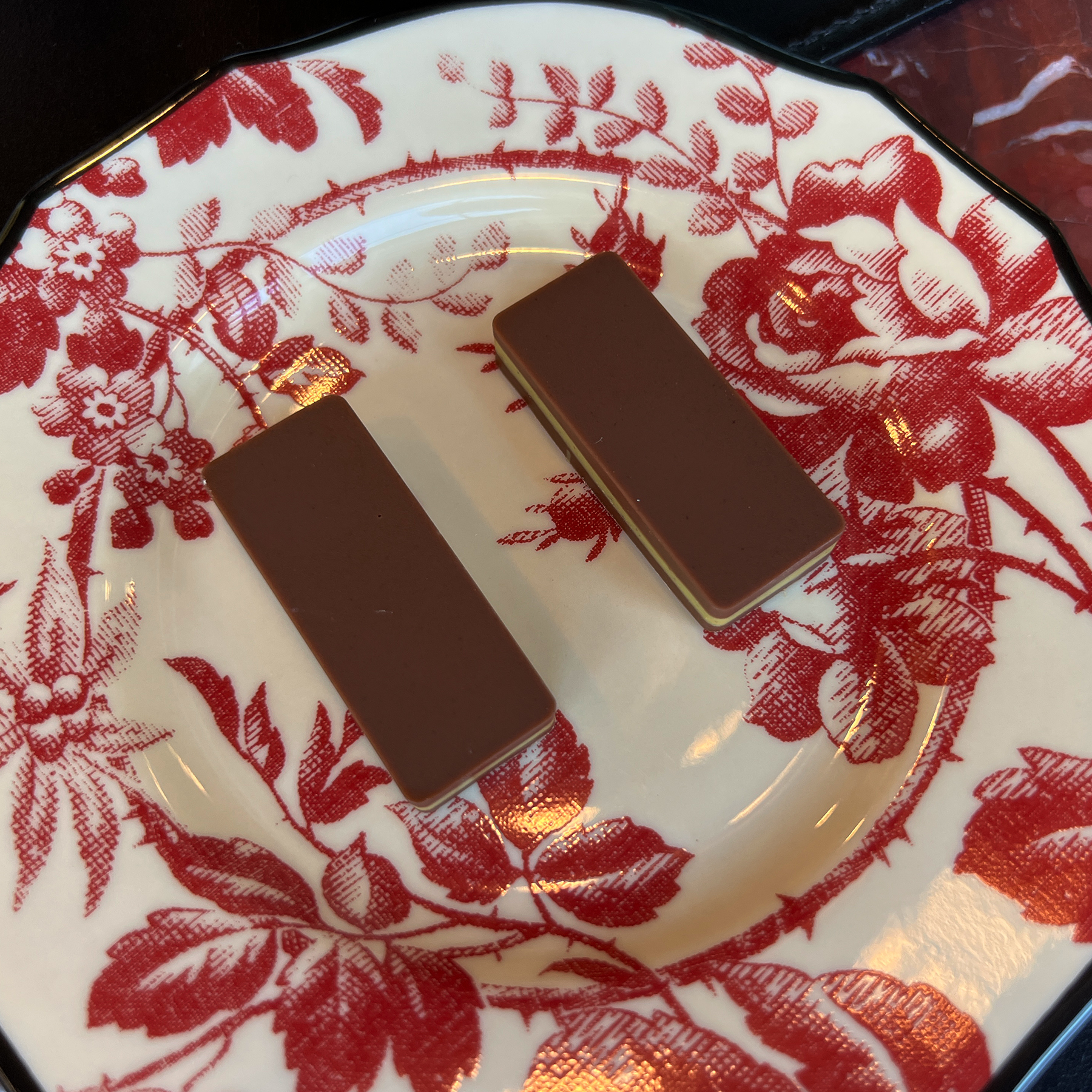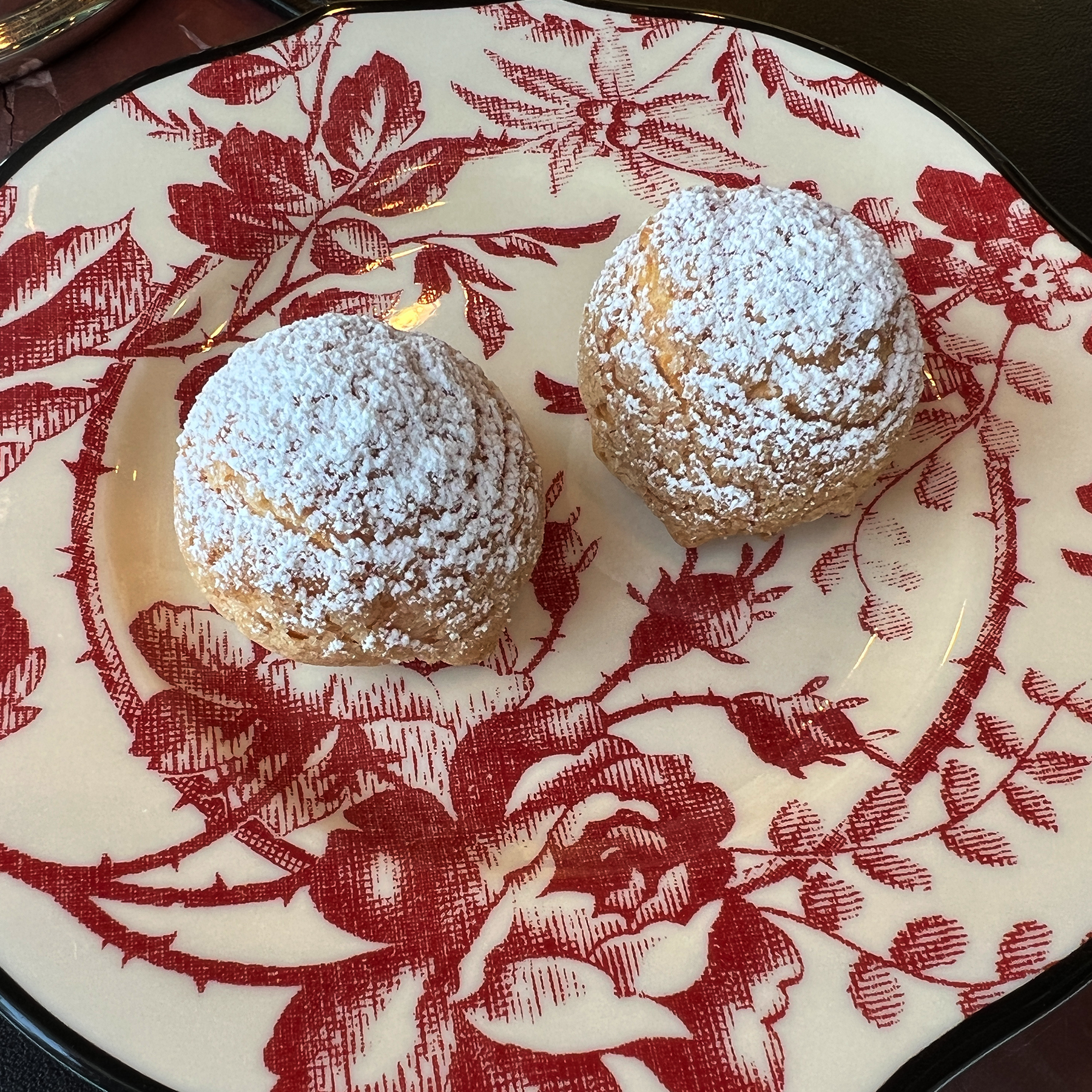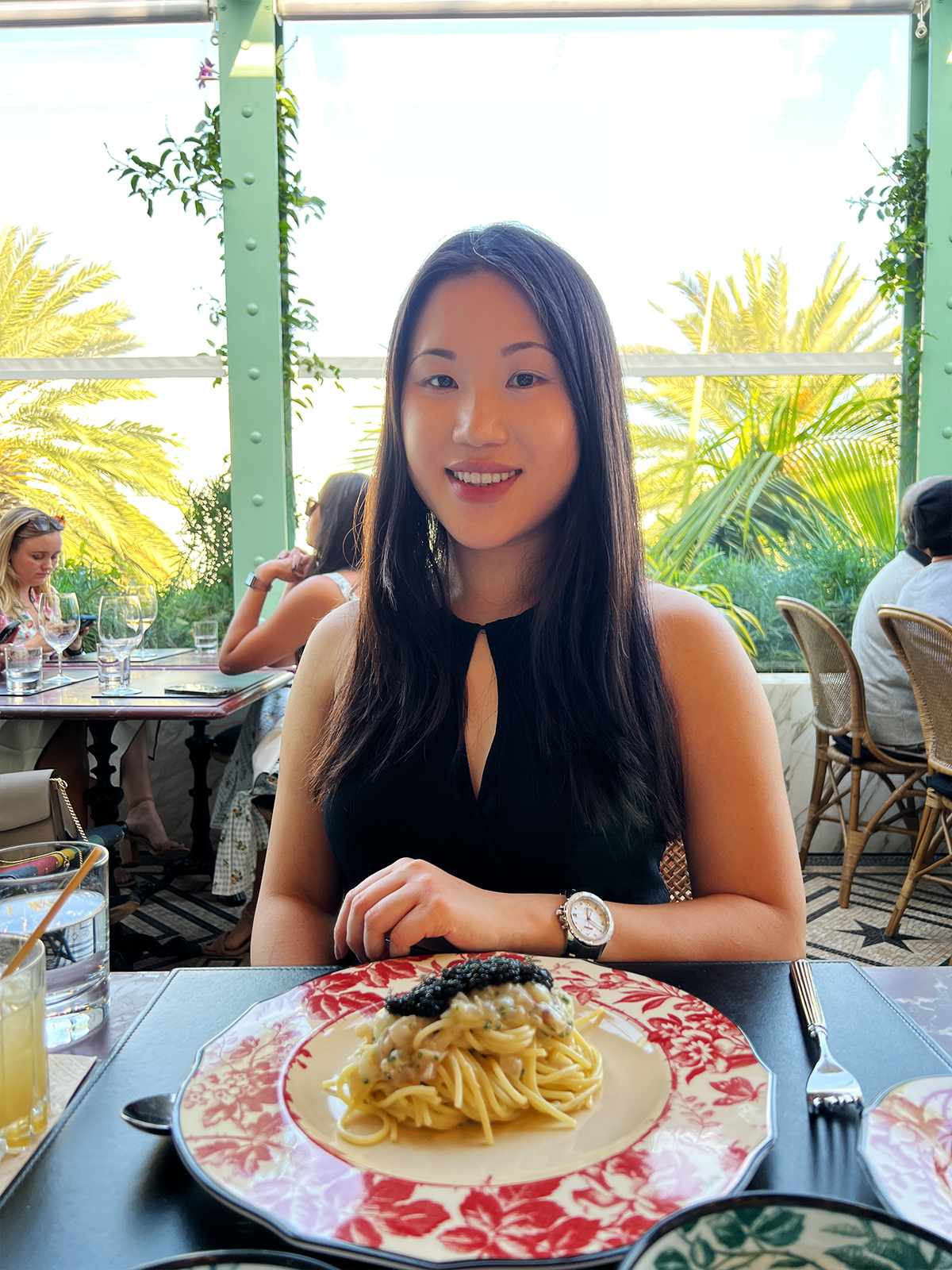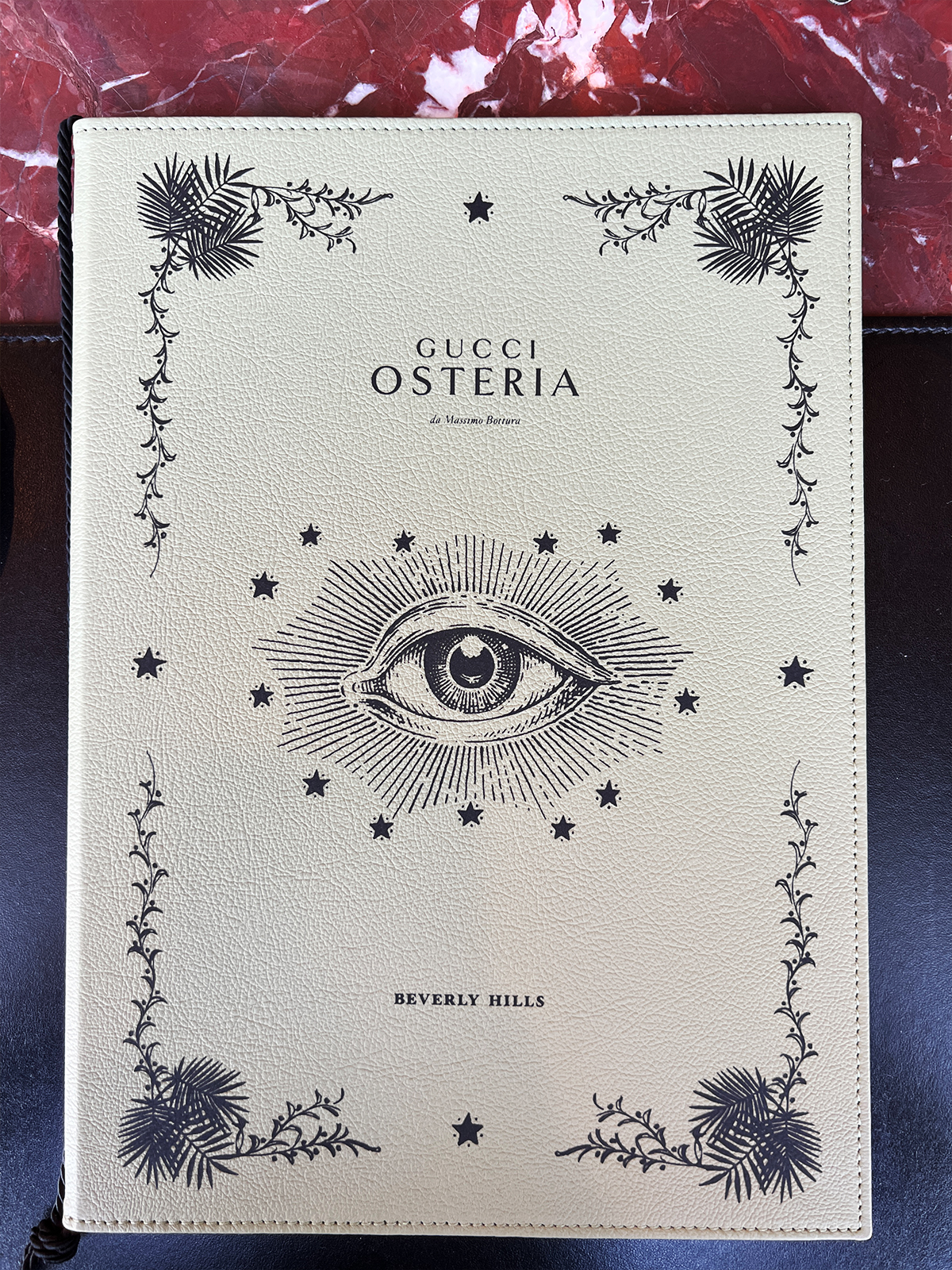 I had an amazing experience at Gucci Osteria. I now fully understand Massimo Bottura's vision through this meal and felt inspired to do better with the meals I create.
Even though this was a Gucci premise, I don't have anything from Gucci and rocked Louis Vuitton instead with no regard. This was perfect timing because I watched House of Gucci a few weeks ago. Although it is unfortunate how the storyline fell through, this is part of history.