Sugarfish Favorites
We're out here with another blog post about Sugarfish! Sugarfish is an omakase-based sushi restaurant, located all over Los Angeles, originating from Chef Nozawa. Even though I published an LA Omakase Guide to Sugarfish, I wanted to do another based on my favorite dishes. I've tried other sushi restaurants throughout Los Angeles, and Sugarfish is one of the top spots. Even though there are multiple Sugarfish restaurants throughout the city, Sugarfish runs a central kitchen in downtown to ensure all of the ingredients meet consistent quality standards.
Let's talk about my favorite orders at Sugarfish, aside from the Don't Think. Just Eat. Trust Me.
uni aka. sea urchin
I could make a whole blog post dedicated to my love for uni if I wanted to. The best uni is the ones that melt in your mouth like butter. Even though there are articles stating that sea urchins are pretty invasive in the ocean ecosystem and we need to consume more of them, they're expensive! I'm more than happy to help the ecosystem by consuming a truckload of them for free.
The uni at Sugarfish has been worthwhile so far. They're bigger than average and taste very buttery. The only concern I've had with them is the temperature. There were a few times when it tasted borderline frozen. I had to let it sit out for at least 5 minutes prior to consumption, which makes me a bit wary. After it warms up a bit, I have no issues. Maybe that's how they preserve their sea urchin. This hasn't stopped me from ordering.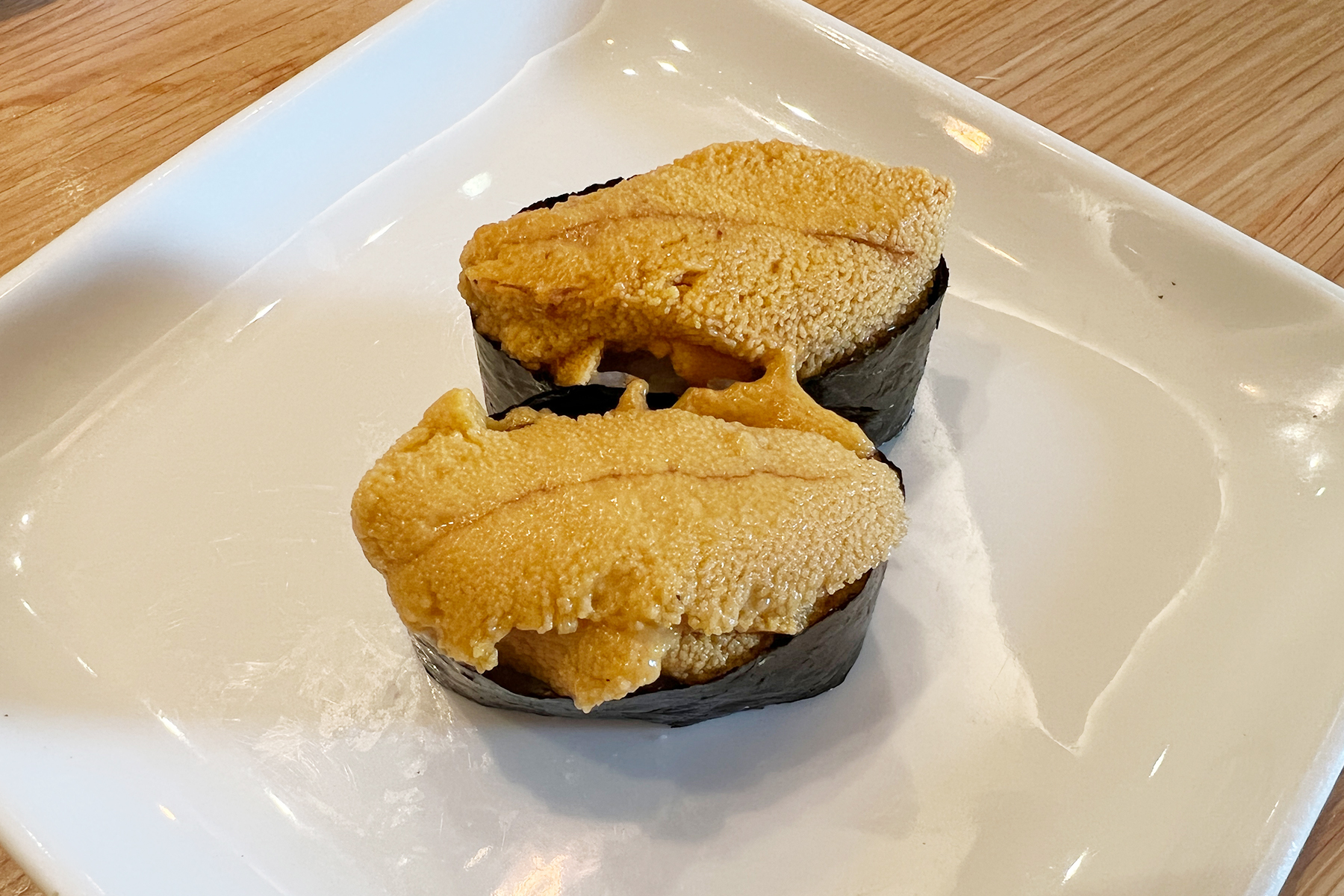 amaebi aka. sweet shrimp
I can't remember the first time I had amaebi, but it was sometime during college. I was in love with the idea of amaebi. There are different variations of amaebi (or sweet shrimp), depending on the species. Regardless, all are pretty much raw, sashimi-grade sweet shrimp. Sugarfish does a great job with preparing amaebi – it tastes very rich, "crunchy", and a bit sweet. They definitely do not skimp with the size of the shrimp. The price point was reasonable (allegedly $8). I've had 1 amaebi nigiri at another restaurant for $18 and still preferred Sugarfish's version. At least at Sugarfish, you get a pair of the nigiri. The only slightly disappointing part was the fact that they didn't give a pair of deep fried amaebi head. I usually live for those! At the same time, I don't think Sugarfish has a deep fryer in their kitchen.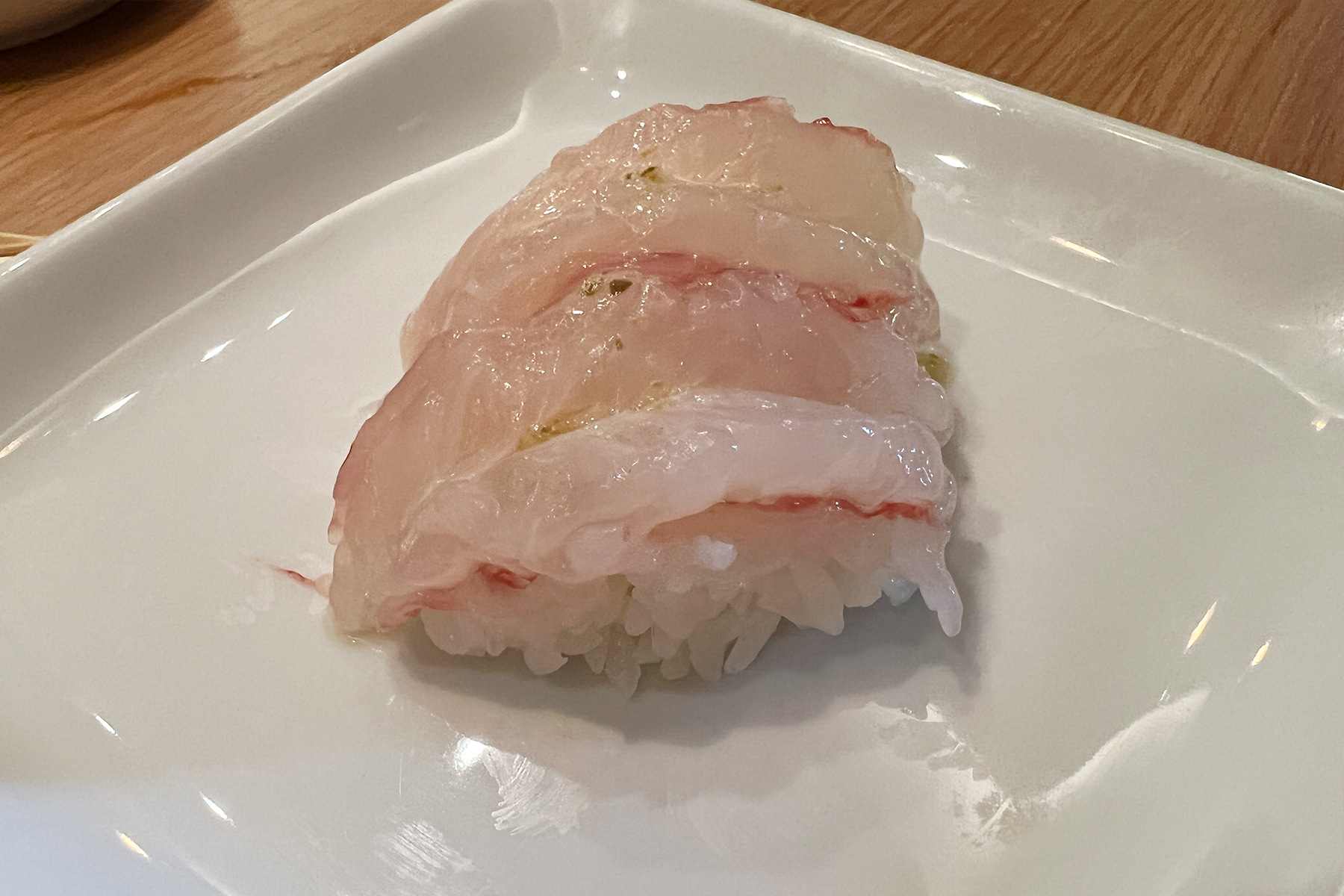 lobster sashimi
Not going to lie, the lobster sashimi looks and taste suspiciously like the amaebi. The lobster sashimi is typically included in the Don't Think. Just Eat. Trust Me. course. Either way, you still get the "crunchy" and rich texture. It might feel slimy for some. Once you get used to it, you're golden because that won;t be the case anymore. See top right below.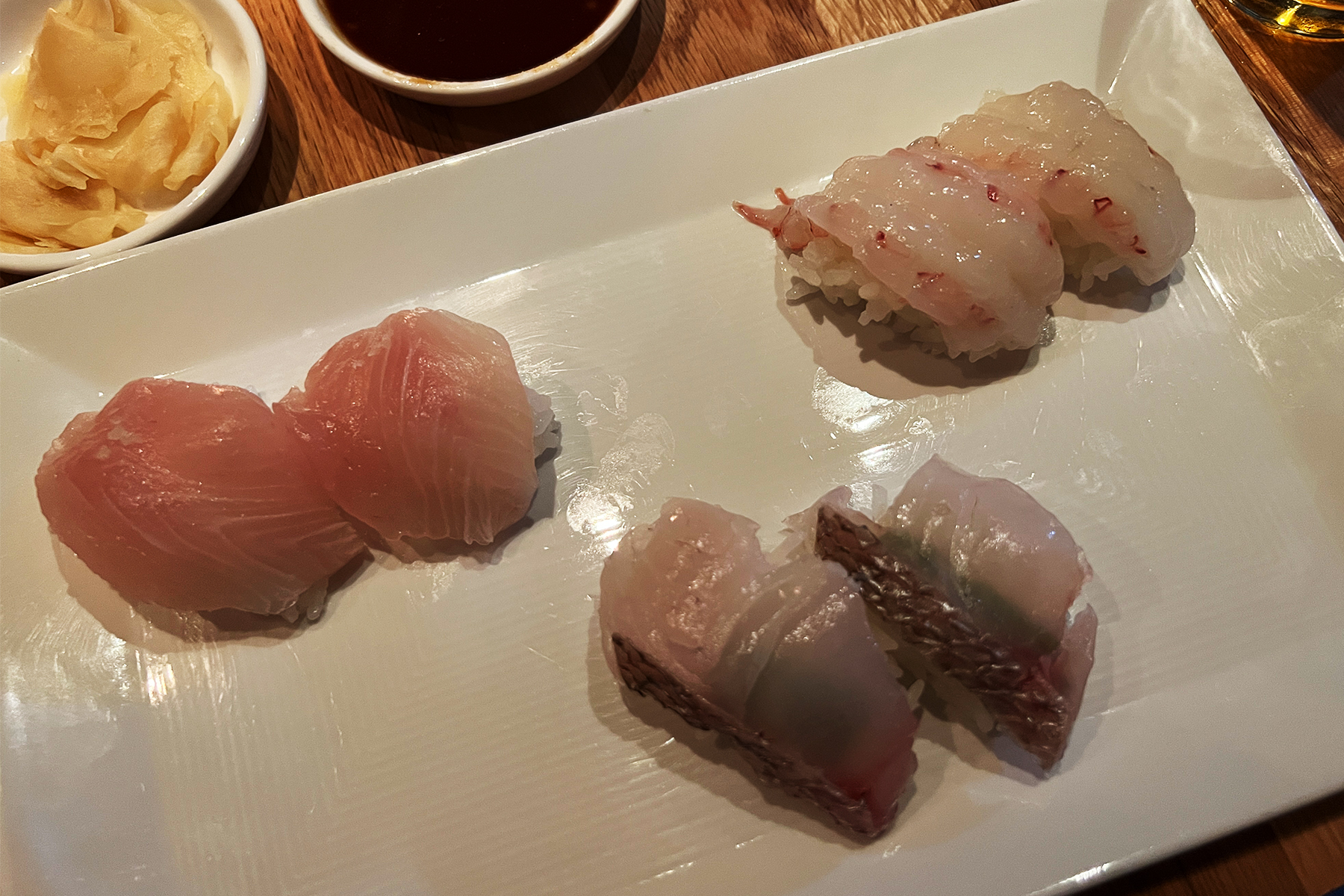 There are plenty of great selections from Sugarfish. They do a great job with picking out high quality ingredients. There are some runner ups when it comes to my favorite selections. I love their ikura (aka. salmon roe), but haven't ordered it recently in favor of the uni and/or amaebi. Their "Limited Availability" menu has a lot of selections I haven't tried yet, such as the toro cuts.
Truth be told, I'll admit: I'm starting to love yellowtail a lot more than salmon when it comes to sushi. Salmon is very common and the quality really varies between sushi ships. Yellowtail has a very buttery texture. Is this me maturing my taste buds or am I just over salmon? I'm not a fan of albacore at all.
Check out my Tiktok on my Sugarfish experience! This was the first time I recorded myself eating and doing a voiceover.