Erewhon Shopping Guide
Erewhon is Los Angeles' luxury supermarket, focusing on providing natural and healthy selections. Erewhon is where the trendy and hip crowd goes for $20 smoothies, milk, and food. Forget Whole Foods, Bristol Farms, and Gelson's. Erewhon takes the throne by racking up the grocery bills. This market started by selling macrobiotic and natural foods, then became a Japanese store, and then transformed into what it is today.
I only knew about Erewhon because of Season 2 of "You". Anavrin is an anagram, similar to Erewhon, that sounds like nowhere backward. An Erewhon location is opening in Pasadena on September 13, 2023, which is more my appetite.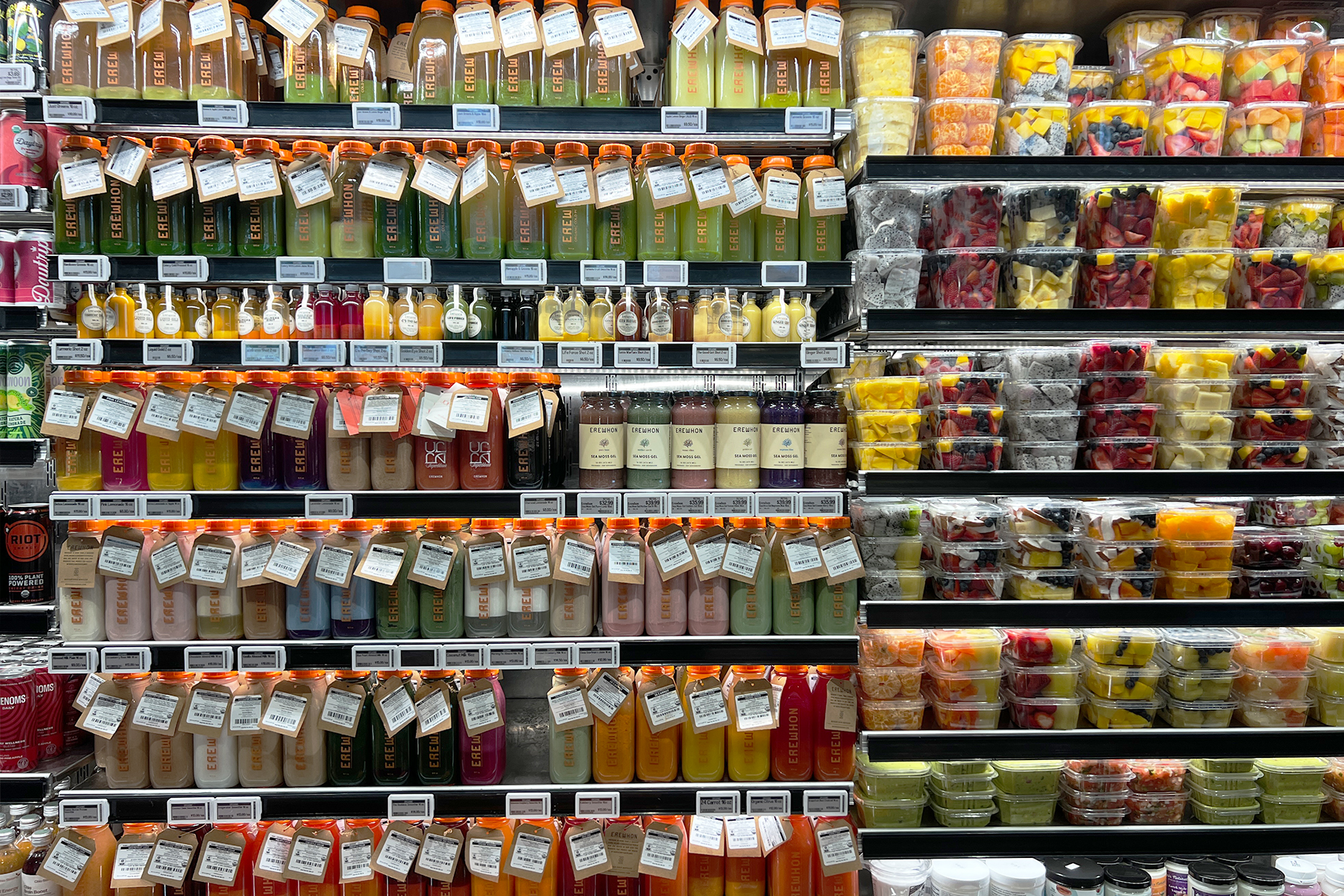 what to expect
🍑 Selections: Think of Whole Foods before it was acquired and cheapened by Amazon, but on steroids. Expect a gallon of raw milk from grass-grazed cows for $20, cold-pressed juice for $12, and a cookie for $6 each. There are tons of ready-to-eat food, raw ingredients, and dietary supplements.
🍑 Reuse, Reduce, and Recycle: Erewhon is big on sustainable packaging – many selections will come bottled in a mason jar or a glass bottle. It's a bit interesting because when you're purchasing something packed in an Erewhon bottle, you're also depositing $2-3 on top of the cost, and you'll get that money back when you return the empty bottle next time. Meanwhile, they're prepping the bottle for the next use.
🍑 Ready-to-Eat: Whether you're craving for a drink, snack, or a whole meal, Erewhon has you covered with whatever your craving is. Everything is packaged, or someone will serve you for the most part.
🍑 Erewhon Brand: Erewhon has its own private label. If you opt for their reusable shopping bag, their cheapest tote starts at about $50, and can reach over $220 for a bigger-sized tote.
🍑 $$$: Expect to spend more than usual here. A ready-to-eat meal for two could easily cost $100 for food and drinks. You'll go through the motions of baller activities at Erewhon.
🍑 Crowd: There will be a mix of customers who are there for the hype and are serious about dropping serious $$$ over groceries. You might spot a celebrity at Erewhon on occasion.
🍑 Parking: Parking can be a hit or miss for some locations. Name another grocery store that offers valet parking (unless you're talking about the Whole Foods at Fashion Island).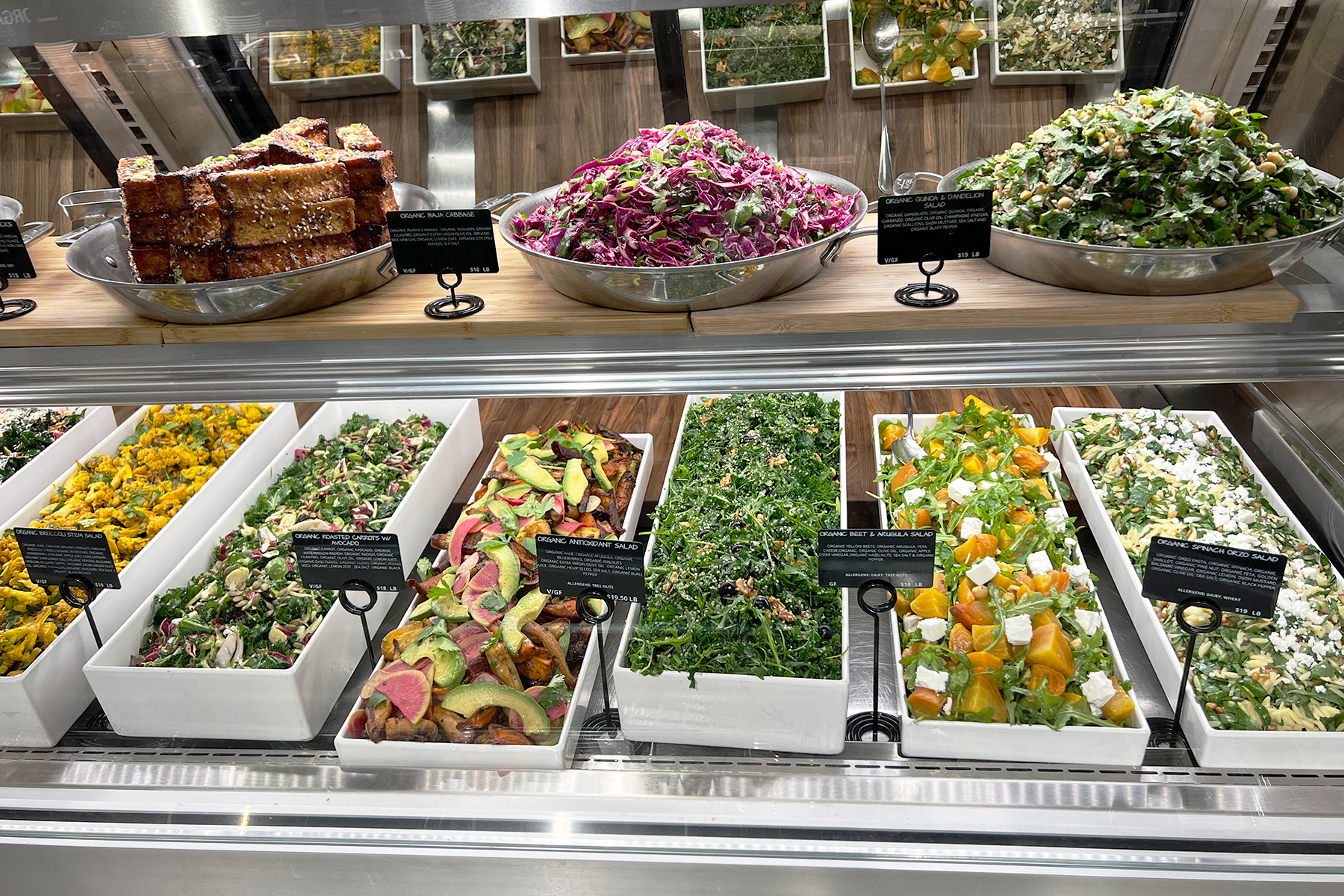 the shopping guide
🍑 Brands: You're not here to buy a brand you could also find at Walmart, Target, Whole Foods, Ralphs, etc. When I am at Erewhon, I buy from Erewhon's private label or something a bit more exclusive.
🍑 Yes: Try these at least once.
Bottled Juices – The price of bottled juice is comparable to Kreation Juicery. They're actually tasty.
Smoothies – This is no Jamba Juice. Erewhon smoothies have some supplements blended in, so read the ingredient list closely.
Hot Foods – Delicious salad, pizza, and sandwiches! You can't go wrong with them.
Sushi Sandwich – This gave me major Nobu vibes because of the crispy rice that is swapped in lieu of sandwich bread. It'll run you $21 dry, but I haven't seen a place that can compare without overdoing the sushi sandwich.
Supplements – There are actually some great supplements you can find here that are not offered at Whole Foods or a vitamin shop. As always, do your research.
🍑 No: There are some things at Erewhon that you can definitely pass on. Of course, this is based on my own opinion.
Onigiri – Honestly, you can say this about everything else, but skip the onigiri. If you're craving something sushi, get a box of sushi instead. Actually, the onigiri was not bad at all. If you're looking or a light snack, this works.
Ophora Water – That $14 bottle of water ain't it. My filtered water at home tastes better. Just get the Solan de Cabras water for a fraction of that cost instead. The water tastes better, and you'll get a cool bottle that the restaurant staff will confuse for liquor.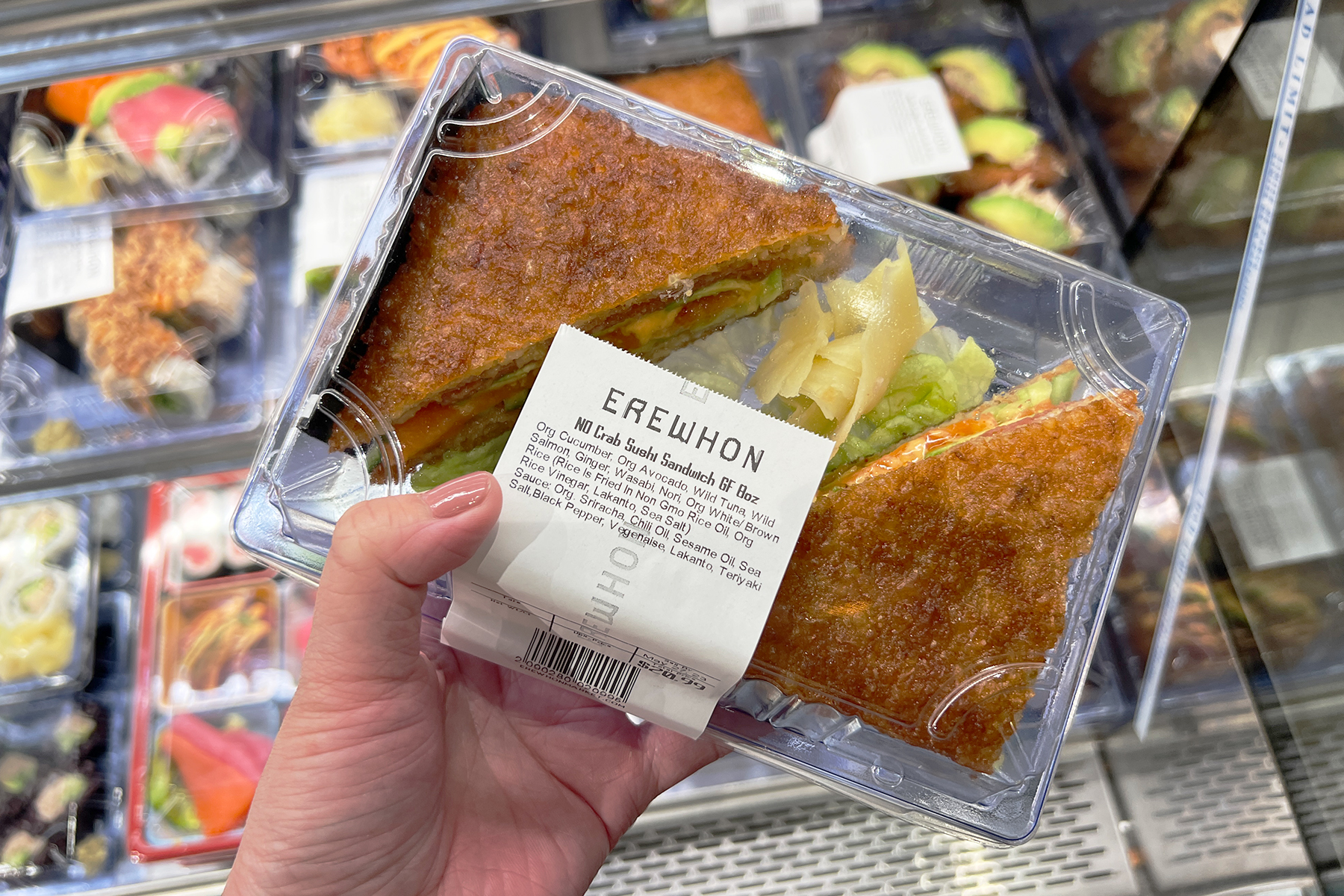 the strawberry glaze skin smoothie
Even though I'm whatevers about Hailey Bieber, the smoothie collab is actually a hit. The Strawberry Glaze Skin Smoothie has Malk Almond Milk, Organic Bananas, Organic Strawberries, Organic Avocado, Organic Dates, Organic Maple Syrup, Vital Proteins Vanilla Collagen, Vanilla Stevia, Sea Moss, Organic Coconut Creme, and House Made Strawberry Sauce. It does come at a hefty price at $18, but it's one of those things you have to try out at least once… Then make it at home.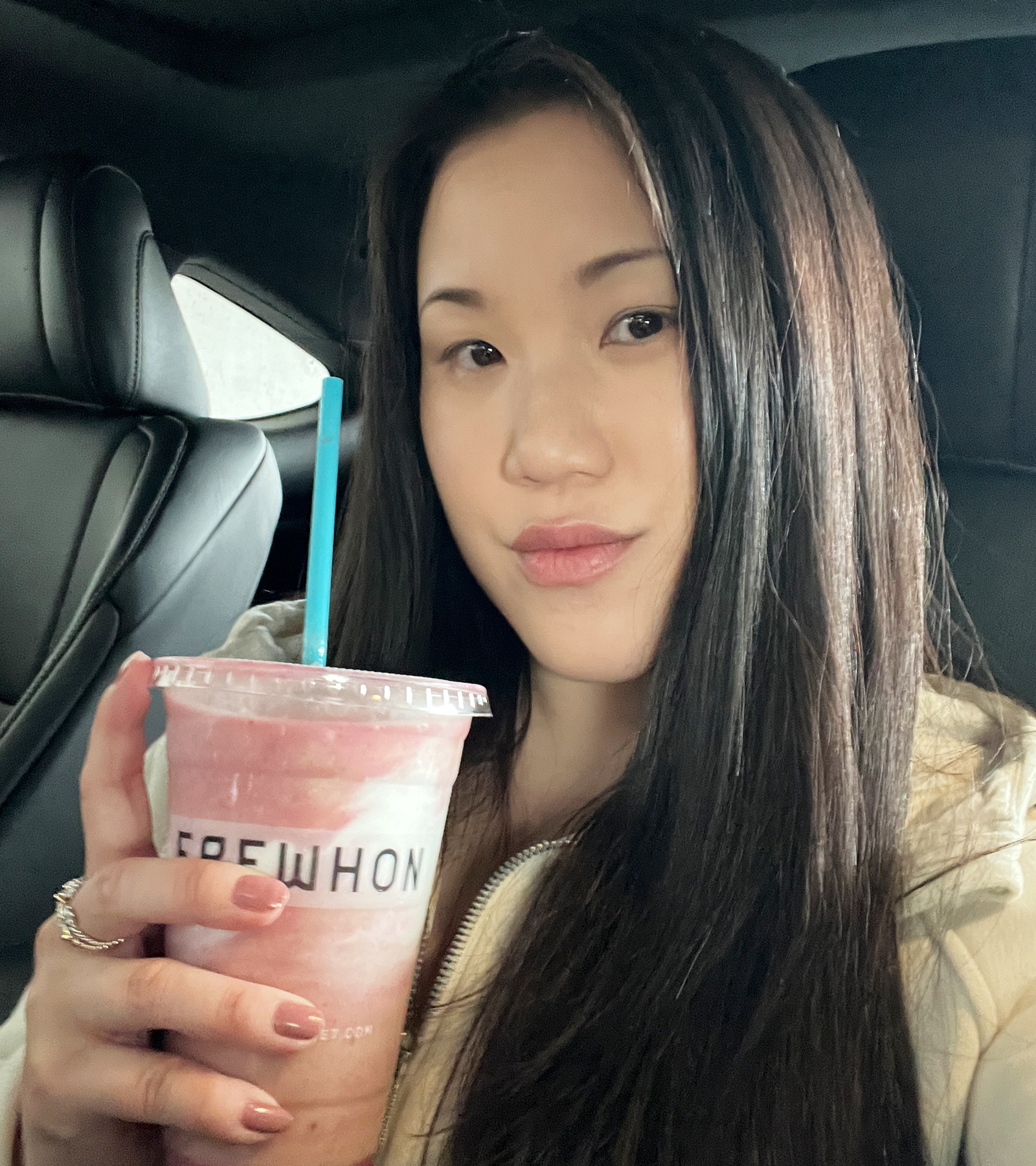 Unless you're balling, Erewhon is more of a treat/hype than your weekly go-to market. I've even toned back on my visits to Whole Foods because Trader Joe's has everything I need (though I still prefer Whole Foods for non-packaged meats). For average people like myself, Erewhon is a place where you go to say, "what the fuck". If you made a trek all the way here, you might as well bring something home. If you rather stick with your local grocer, you do you, boo.