Homemade Sushi Guide: Crab Handroll
Making a crab handroll doesn't need to be complicated or require a trip to a handroll bar. Ordering takeout can always be easy, but it doesn't hurt to make your own crab handrolls (or honestly, any other handrolls) at home. Even though you're responsible for prep and cleaning, you'll save some money and can have some fun.
This recipe closely represents the handrolls you'd find at Kazunori (warm rice), but obviously a bit better.
how-to guide
Ingredients
Crab (or any protein of your choice)
Pinch of Salt & Sugar
1 cup of sushi rice (Japanese short-grain white rice)
4 tablespoons of rice vinegar
Japanese mayonnaise (regular is fine)
Seaweed/Nori Sushi Sheets (full or handroll sized is fine)
Recipe
Cook the sushi rice. There are tons of recipes out on the internet. I usually use the rice cooker, white rice water ratio, and let it cook longer than when the status switches to "keep warm". Every rice cooker is different.
While the rice is cooking, blanche your crab of choice. Places like Kazunori/Sugarfish tend to use a mixture of blue crab and Dungeness crab. You can opt for snow crab, Dungeness crab, blue crab, rock crab, king crab, or any variations you can find in your local market. Heck, you can even use imitation crab and turn this into a California handroll. I used the frozen snow crab legs and claws from Sam's Club. After boiling the crab, I drained the water, and dumped it into an ice bath.
Once the crab cools down, start cracking the shells and removing all of the meat into a separate bowl. The crab meat should not be watery. Once completed, mix some mayonnaise with the crab meat. The ratio is up to you. You can also add scallions, radish sprouts, and other toppings as you please.
When the rice finishes cooking, add about 4 tablespoons of rice vinegar per 1 cup of sushi rice, and a pinch of salt and sugar. Mix until evenly spread.
Since this recipe closely represents Kazunori's handrolls, it is fine that the rice is warm. When it comes to the seaweed/nori sushi sheets, you can opt for a handroll size or full-size sheets. To assemble the roll, there are many ways to achieve a similar end result. Kazunori would layer the rice then toppings on the same hand, then roll. I like to layer the rice on one end, and the toppings on the other end, then roll in from the toppings to the rice, so the roll can stick together. This method would make the sheet a bit soggy. I'm not a fan of the traditional "ice cream shape" hand rolls because the rice-to-topping ratio is not it.
If you used the full-size seaweed/nori sushi sheets, cut them in half after assembling them.
Dip in soy or ponzu sauce with wasabi (optional) and enjoy!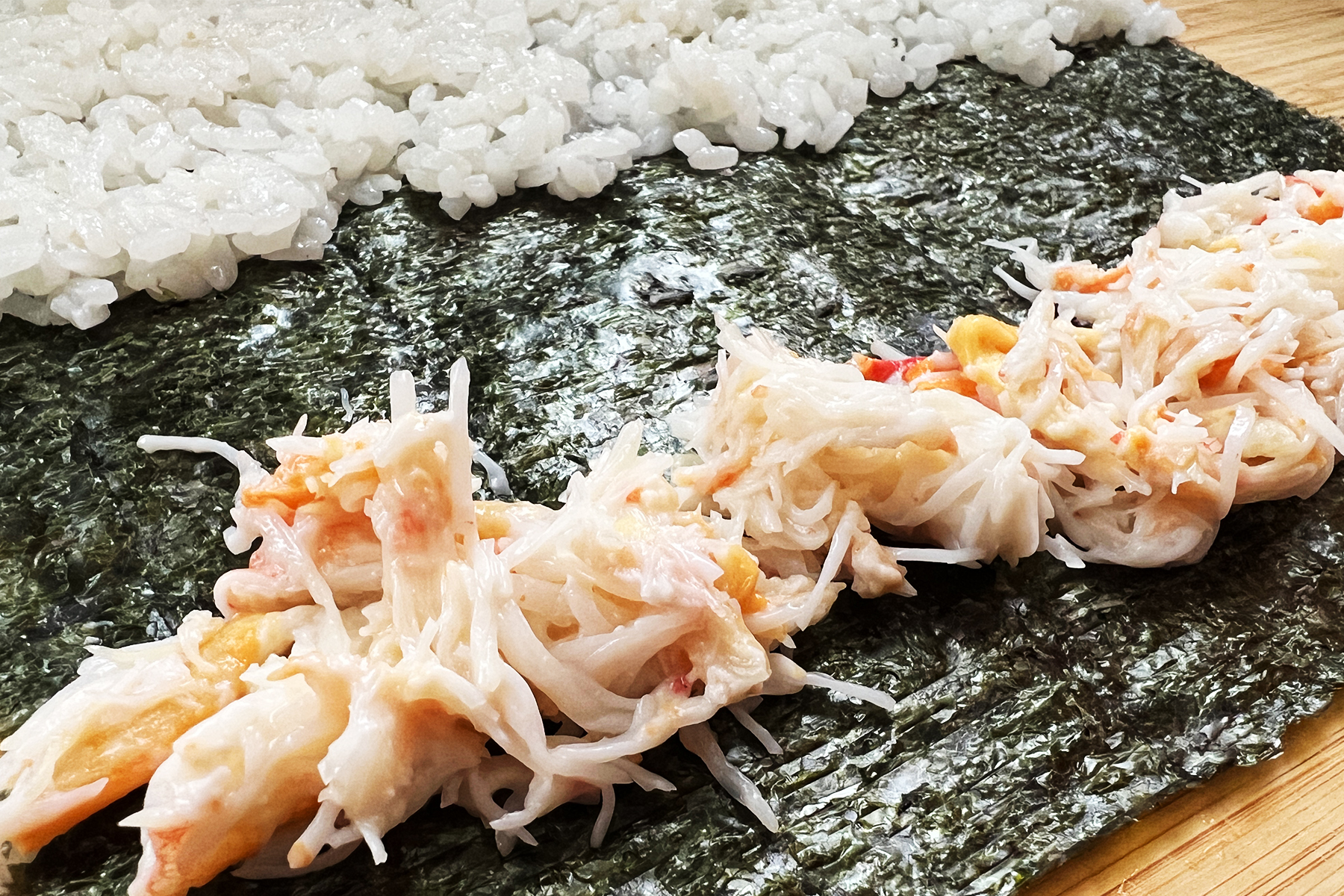 tips and tricks
If your knife is sticky from cutting the rolls in half, brush it with rice vinegar between cuts.
If your rice is too watery, let it cook for a bit longer.
You don't need the bamboo mat. It's completely optional. Most sushi chefs use the mat in the end to give the roll its shape. Make sure to roll tight enough without the toppings spilling on either end.
Highly recommended to eat as you assemble. That way, your seaweed/nori sushi sheets are still crispy, unless you're okay with it being like a regular sushi roll.
Eyeballing is key; your estimations will improve over time.