Pasadena Guide to Erewhon
Erewhon in Pasadena is now finally open! This business move was inevitable because Pasadena has been blessed with many brunch spots, bars, and boutique workout studios. As I shared in my previous Erewhon post, you're there for the vibes, not to grocery shop (unless you're a big-time baller). Erewhon competes with Whole Foods, Bristol Farms, and Trader Joe's within the vicinity. Is it worth the visit? Of course!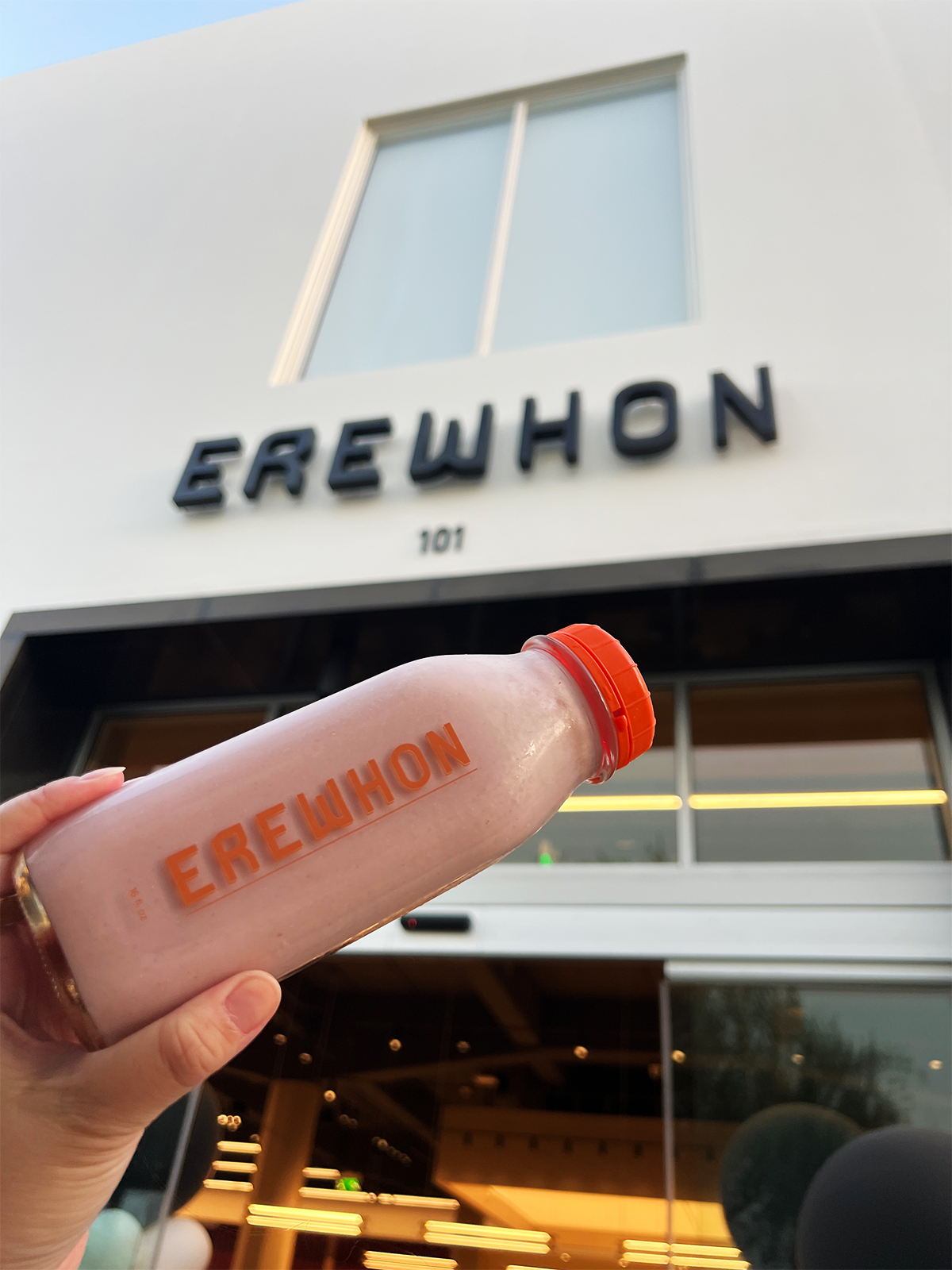 what to expect
Erewhon Pasadena is just like any other Erewhon. Expect products that are organic, non-GMO, grass-fed/cage-free, sustainably sourced, regenerative, natural-based preservatives, and more. They are big on eco-friendly packaging, so soup and juices will be coming out of mason jars/glass bottles.
The Pasadena location is much more desirable than other locations. There are plenty of free parking options around.
If you do want to grocery shop here, at least buy products you wouldn't see in other stores. You'll see some of the same shared brands from Whole Foods (i.e. Justin's Peanut Butter Cups). Stick with the unique selections. Where else would you find Patagonia Provisions?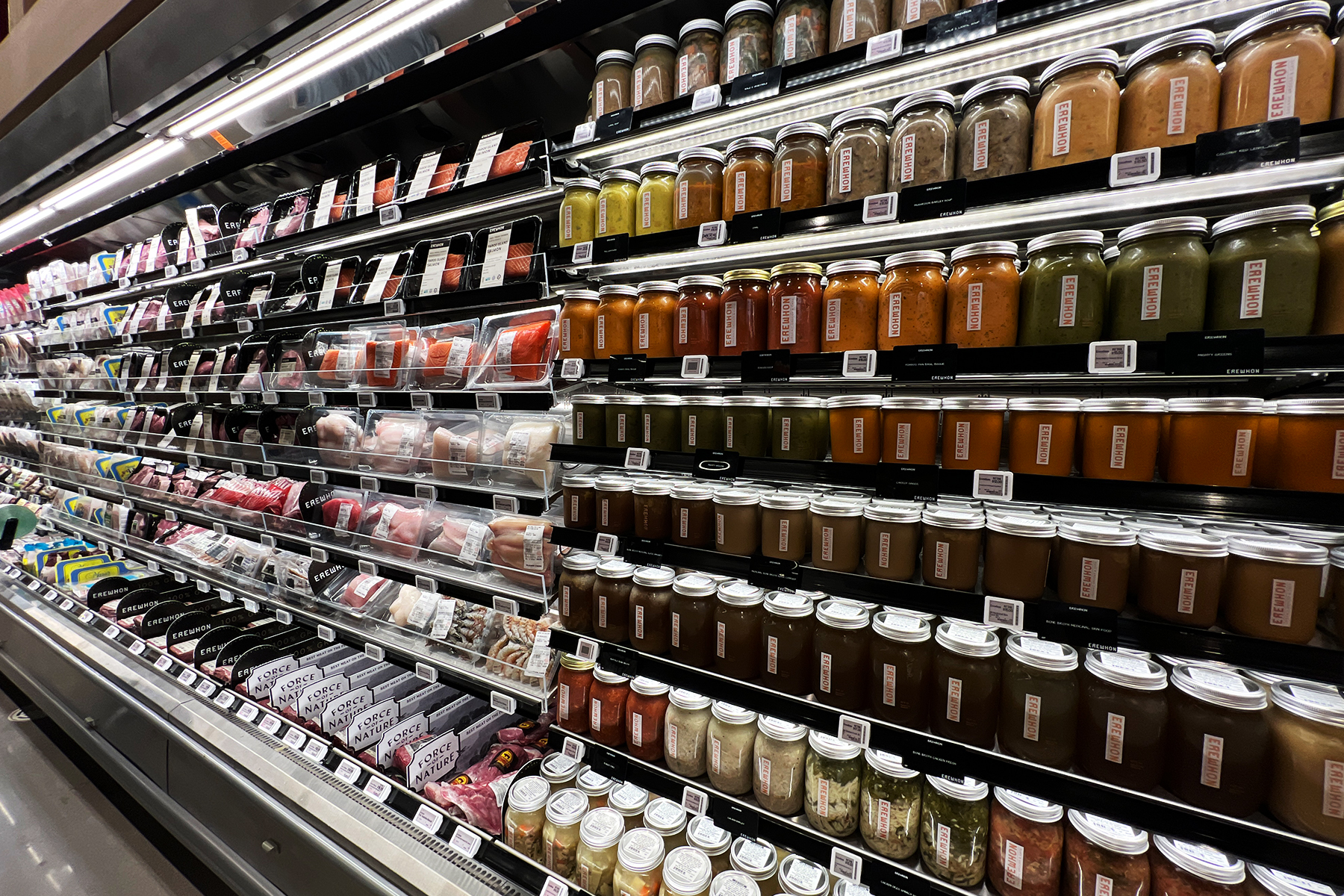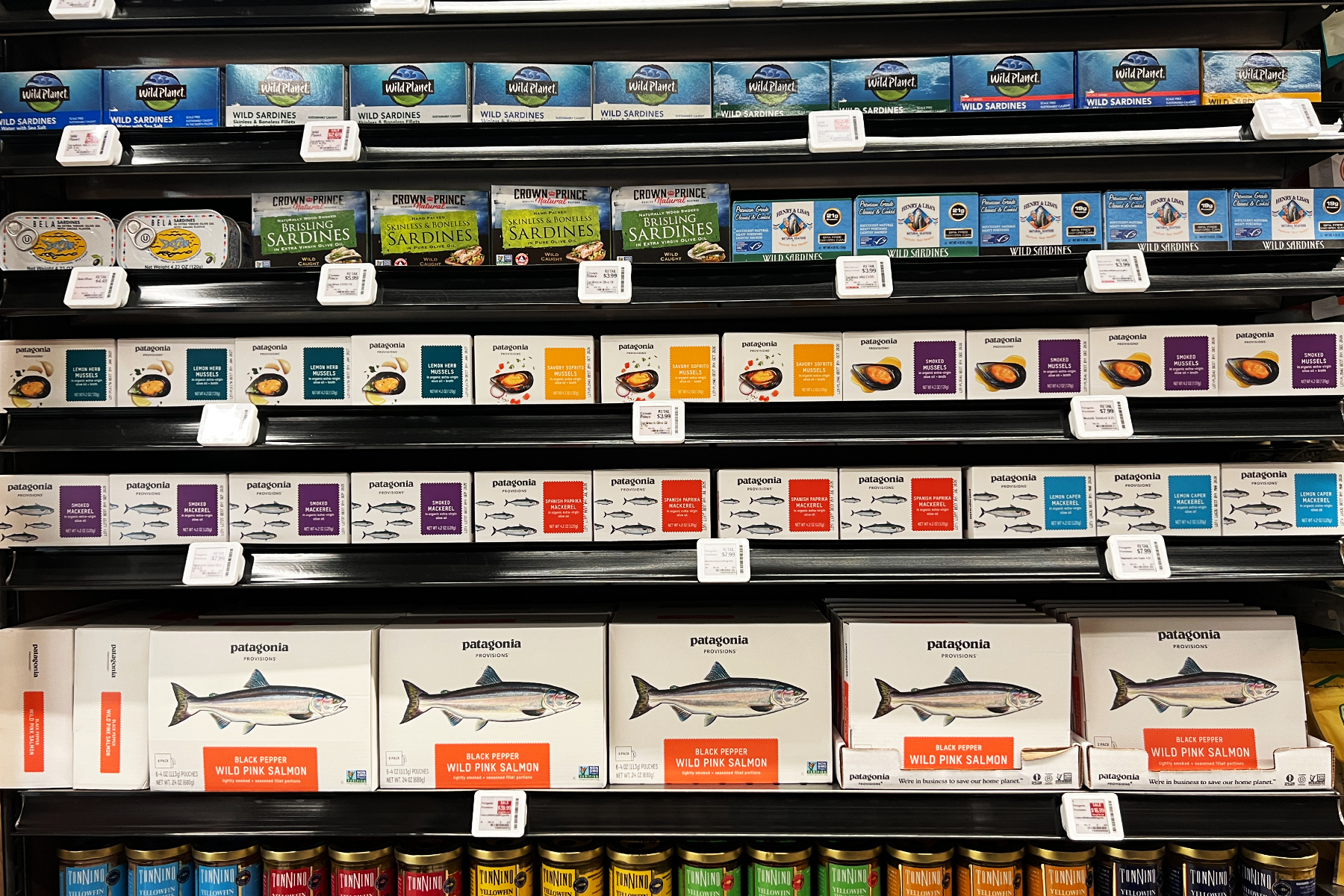 pricing
You thought Whole Foods was expensive? Try Erewhon. They did have the $20 gallon of raw milk. I had a conversation with another customer who said raw milk is packed with healthy gut bacteria (like yogurt?), but has a really short shelf life (about a day) after you pop open the jug. The way that you have to frame your mindset at Erewhon, is that you're taking care of your health.
I used to report to a director who once told me that work comes first, not my health. While the paycheck is great, I'm not chained to my job, especially when my responsibilities are completed. I want to be able to climb a couple of flights of stairs without feeling exhausted. Health is wealth.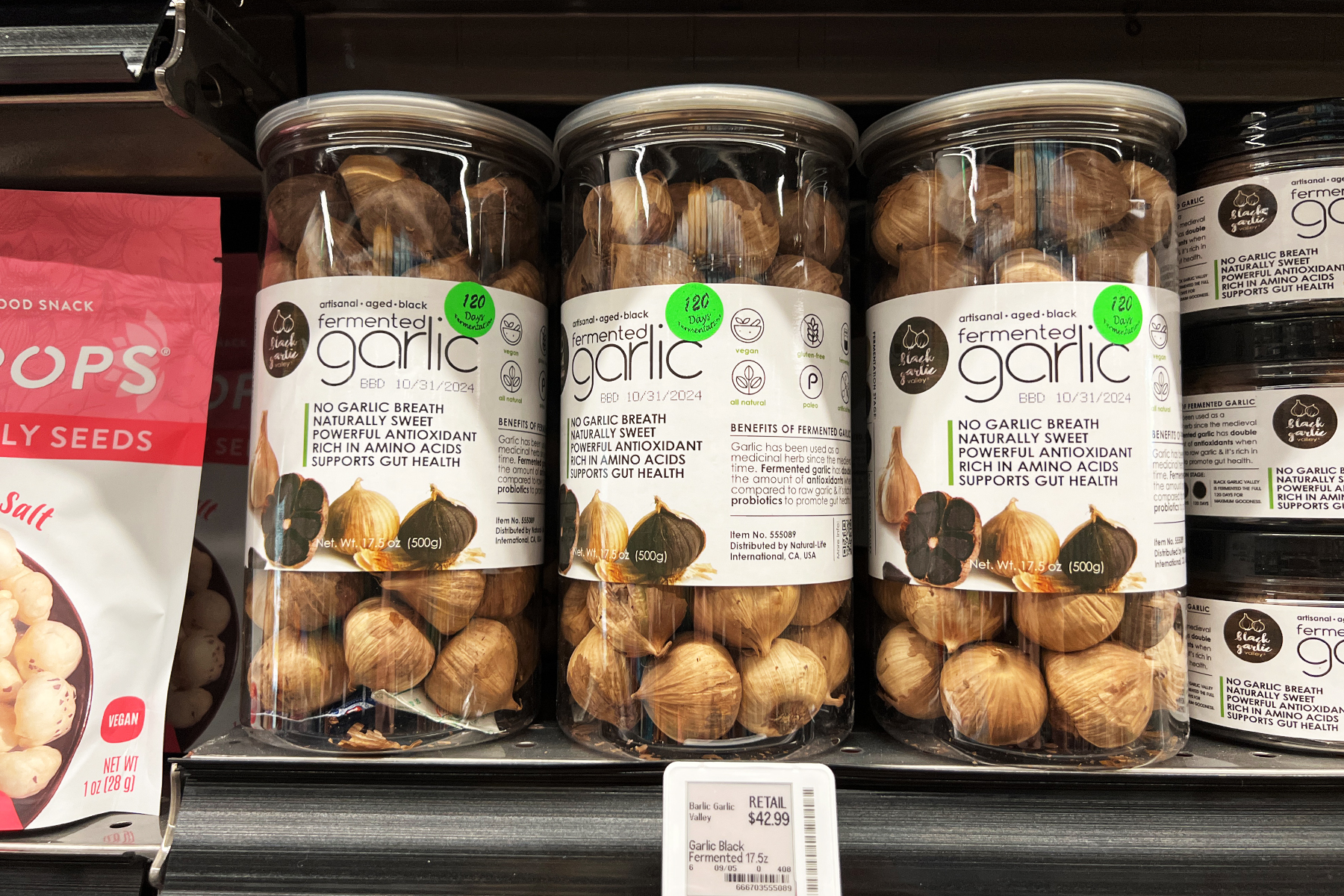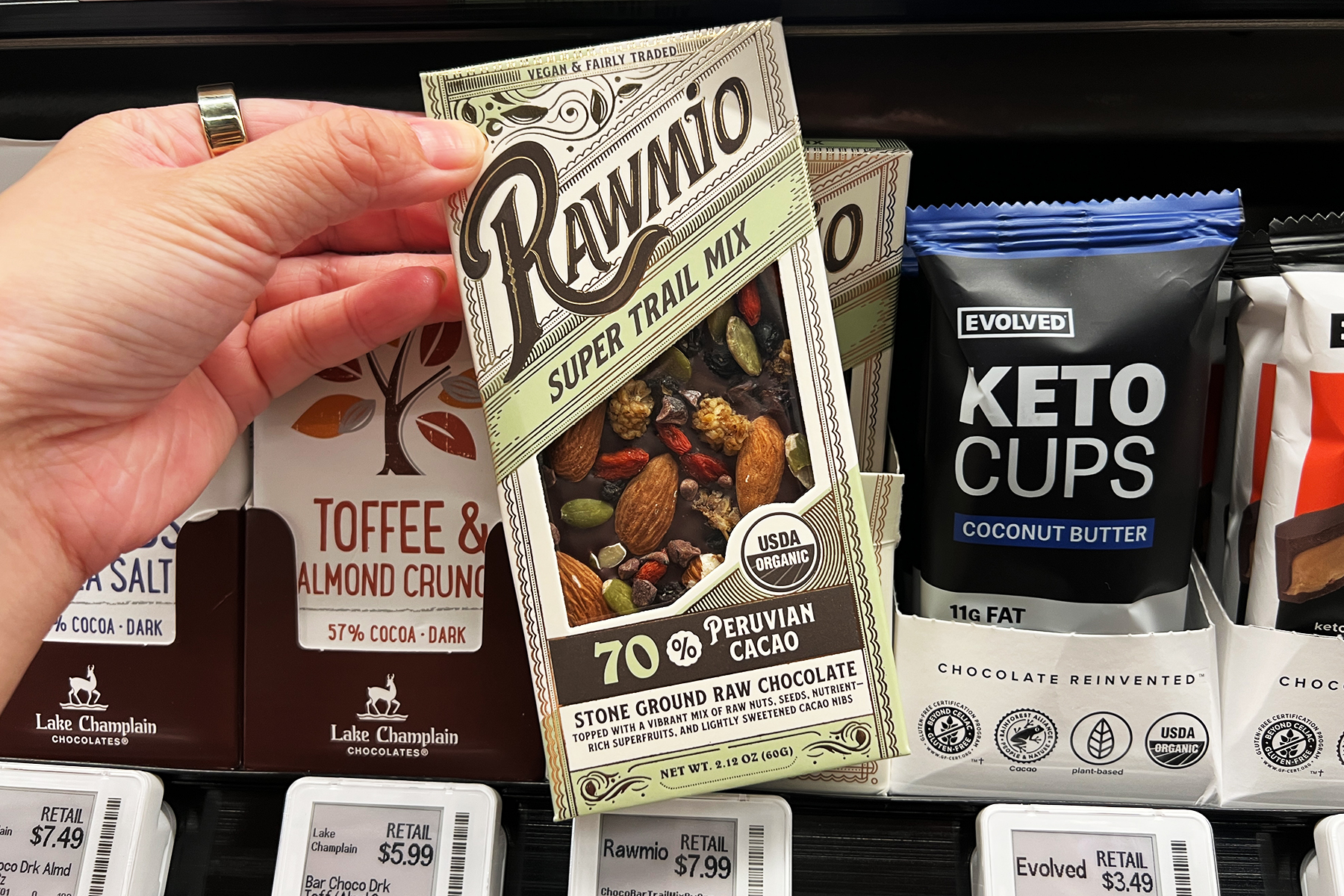 prepped foods + hot bar
The prepped foods section is really popular. Whether you're craving for a salad, steak, meat, sushi, pizza, sandwiches, smoothies, or whatever it is, Erewhon has it all. I would definitely eat the sushi rolls and sushi sandwiches. It's basically crispy rice with sushi fish in between. Who knew avocado would go great with rice and soy sauce?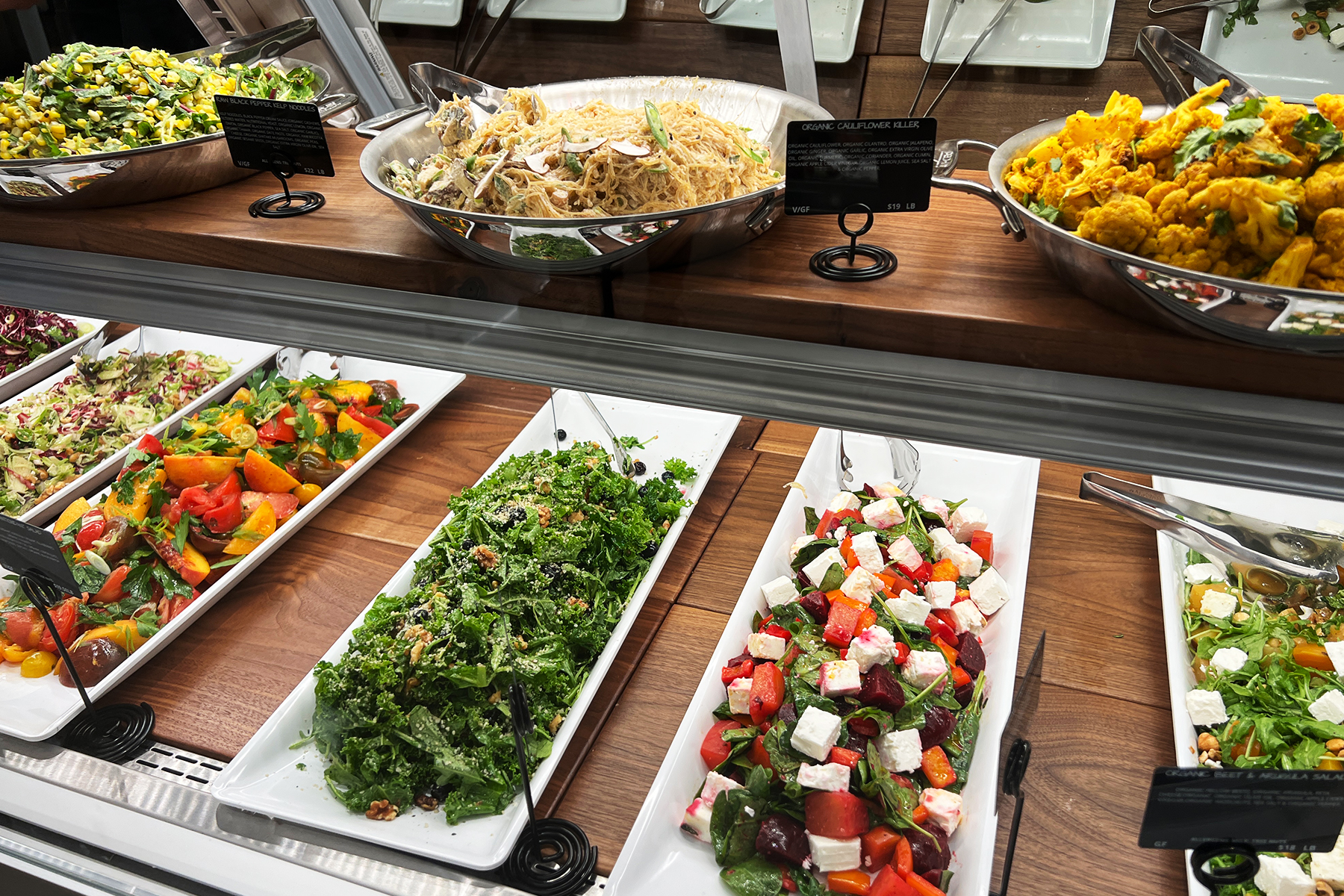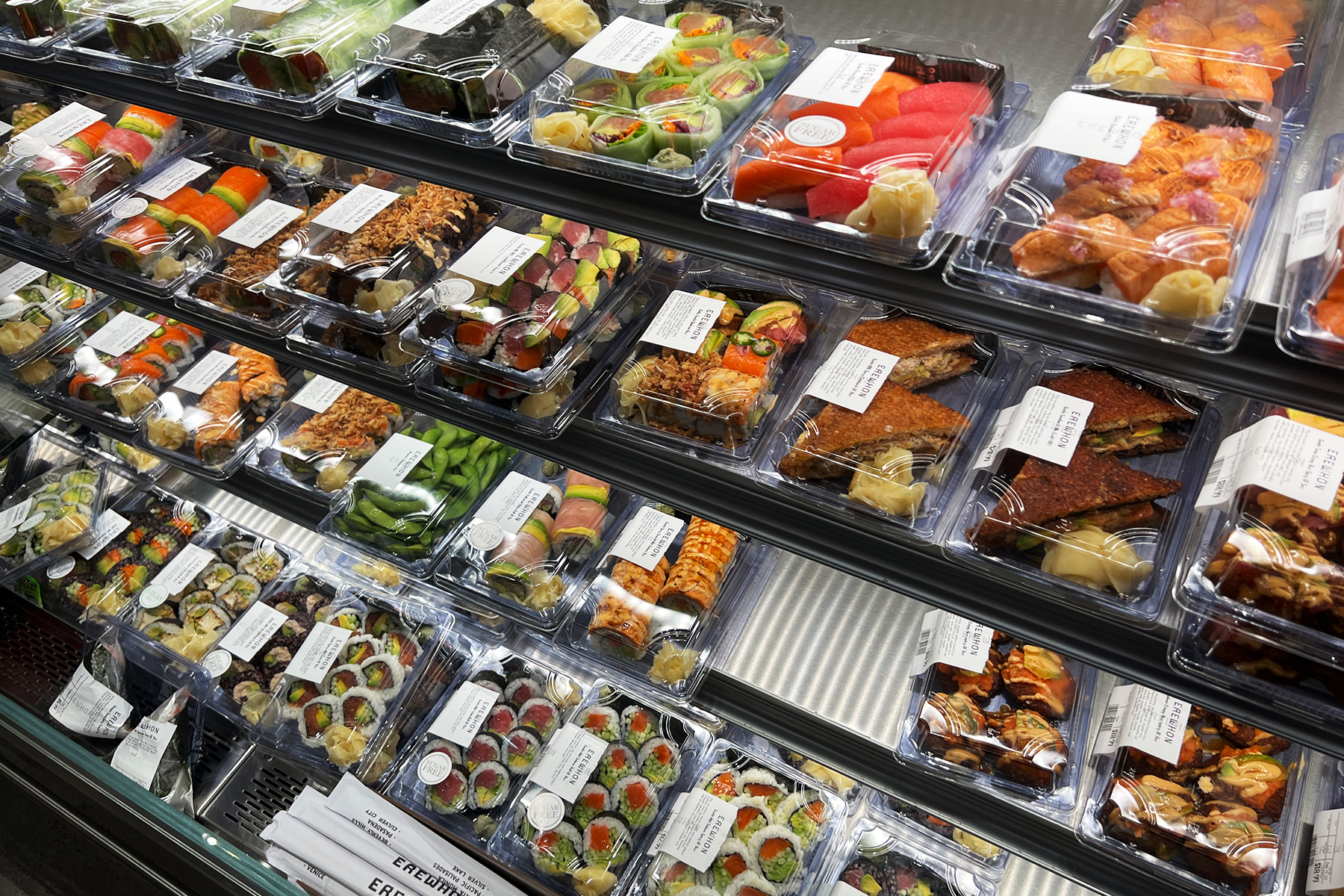 for the charcuterie
Charcuterie lovers can rejoice with a healthy selection of cheese, honey, meats, and more.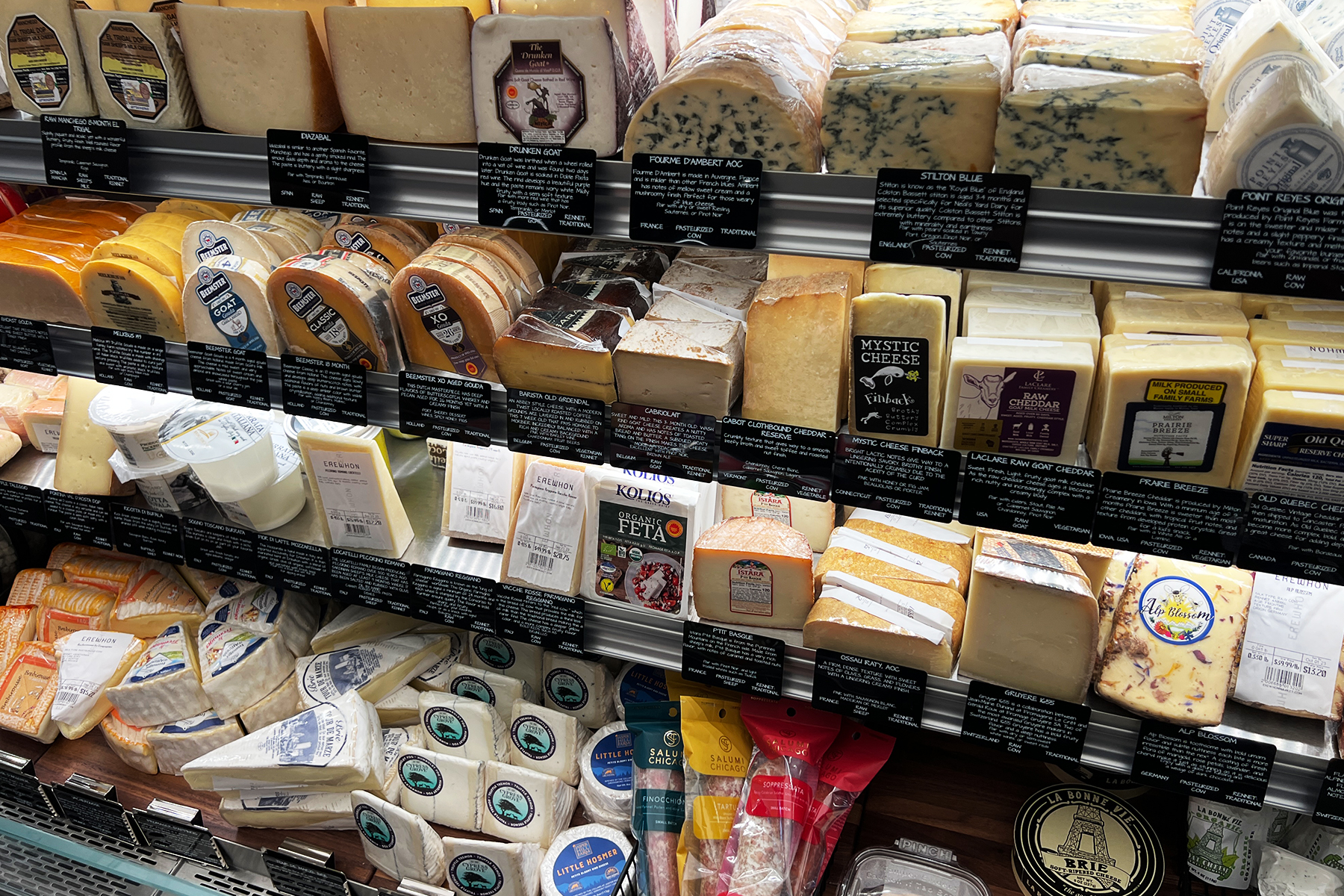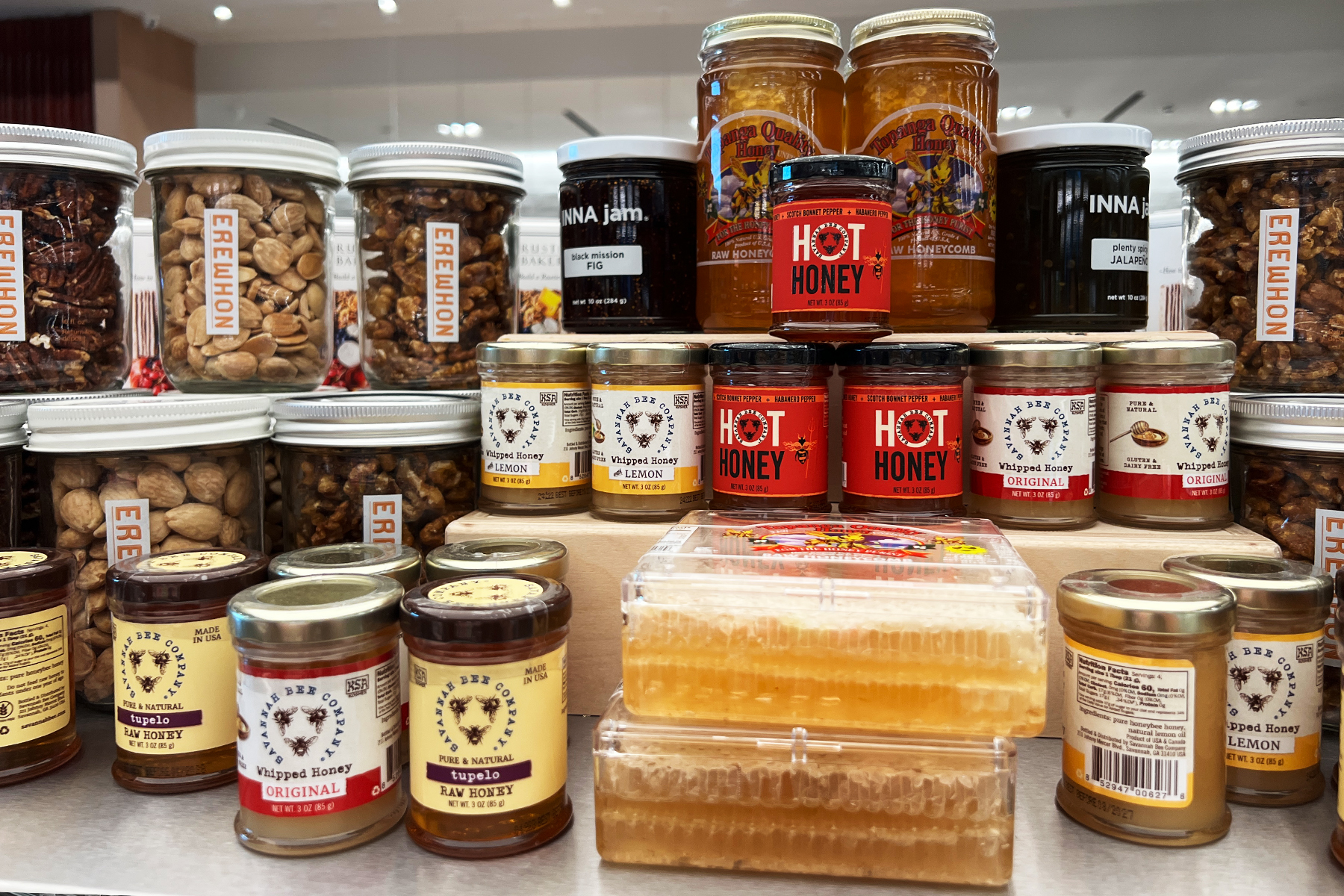 pasadena rose smoothie
Erewhon did right by paying homage to Pasadena with an exclusive Pasadena Rose Smoothie. I think I like this smoothie more than the Hailey Bieber's Strawberry Glaze Skin Smoothie. This smoothie has a strong hint of rose water; which is REALLY refreshing. Highly recommend.
This smoothie contains rose water, malk admond milk, coconut milk, beet juice, strawberry, banana, goji berries, lucuma, maple syrup, coconut collagen, coconut cream, and vanilla stevia.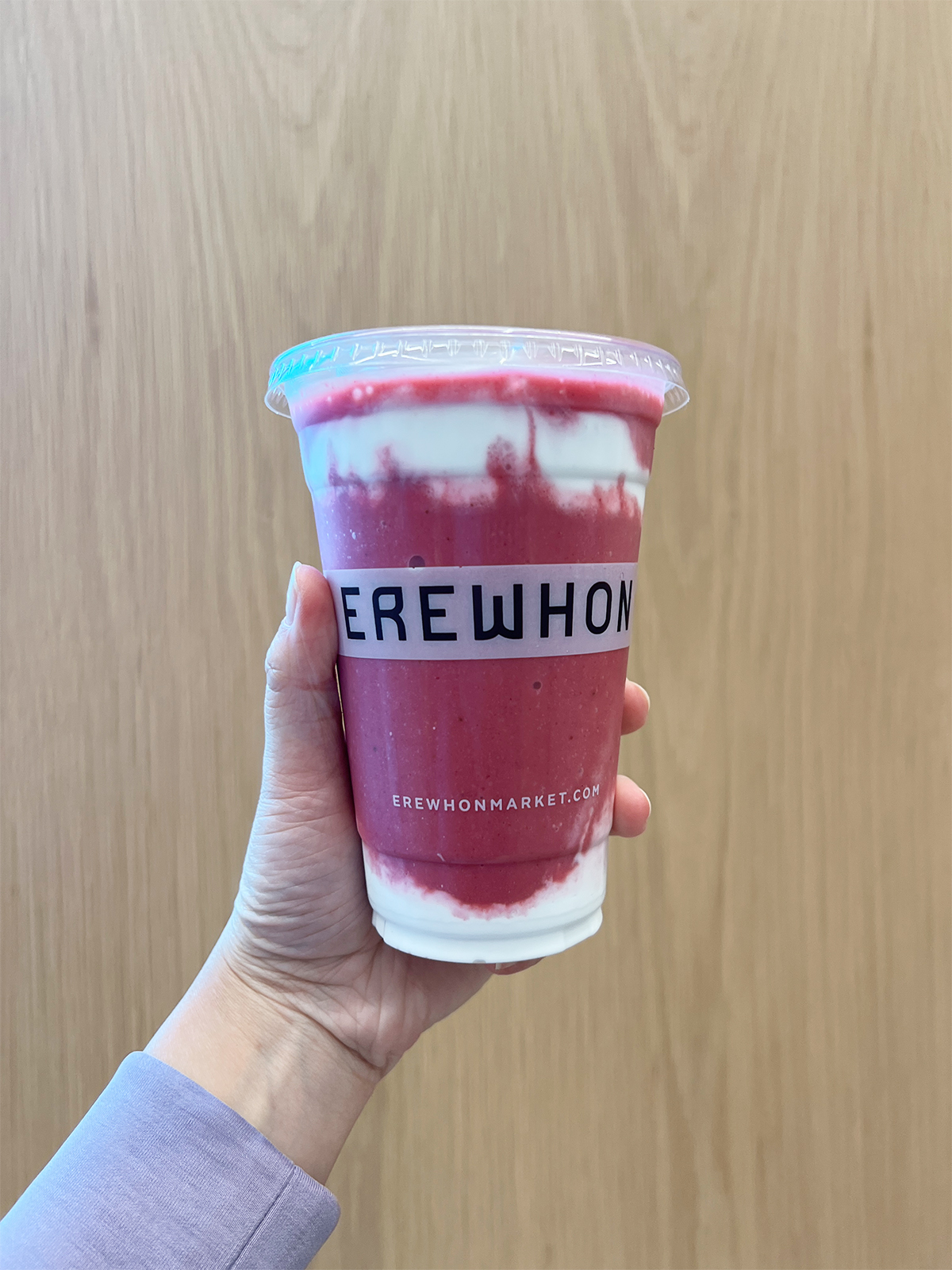 Miranda Kerr's Kora Glow Smoothie
Update: The onigiri actually hit the spot; they have a sushi-grade salmon option. Actually, it's pretty decent because the rice was fresh (not hard) and does the job when you're not looking for a whole sushi set.
I tried Miranda Kerr's Kora Glow Smoothie. This smoothie has collagen, almond milk, coconut water, maple syrup, lucuma, banana, acai, blueberries, coconut cream, blue majik, pitaya powder, and coconut yogurt (all organic). This is a great option if you're tired of the other smoothies.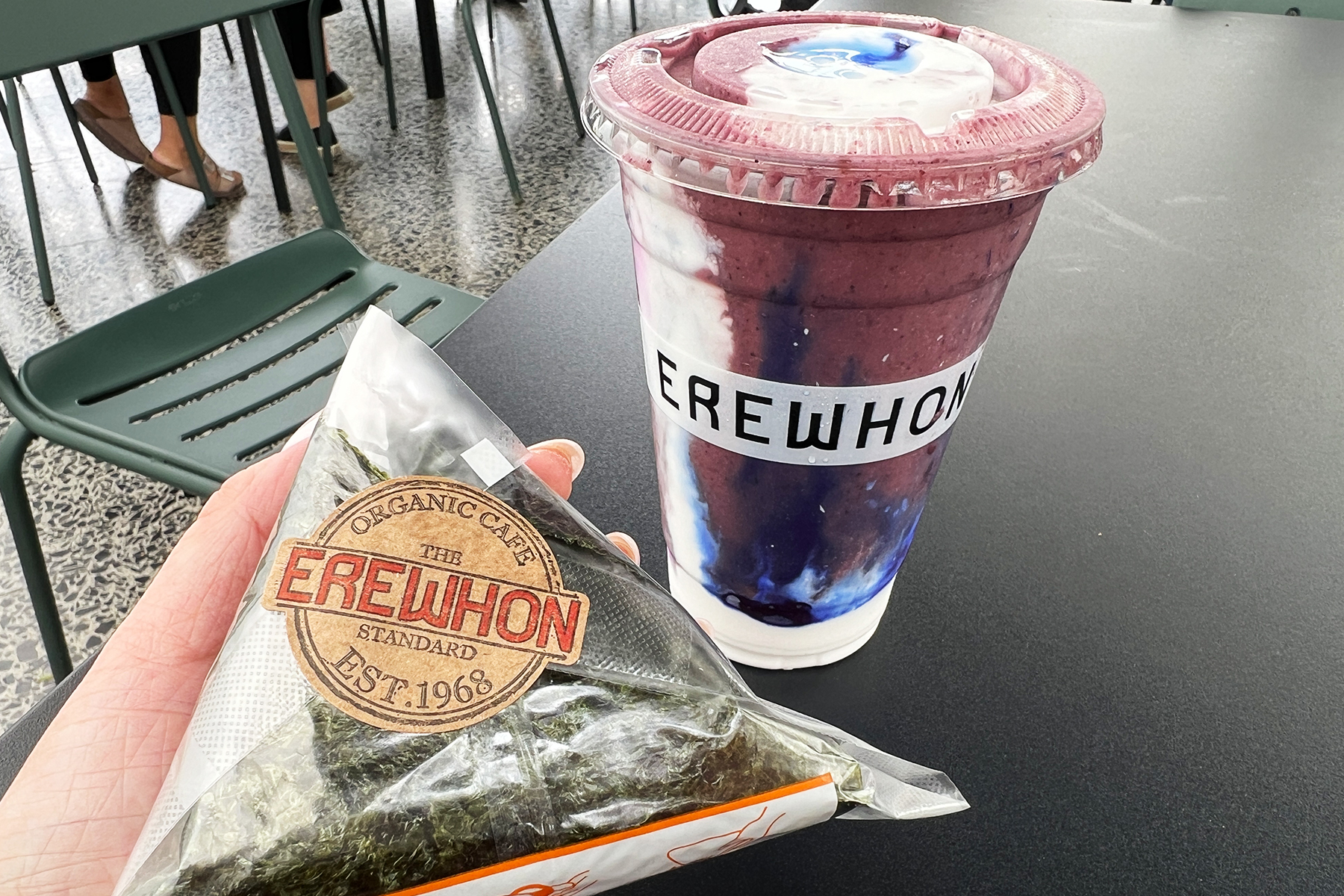 thoughts + feelings
I feel like Erewhon's bottled juices would wreck nearby juiceries and tonic bars. Is sea moss gel worth the money? I would try it out for a month. I'm happy I don't need to drive to Silverlake if I'm craving for some Erewhon. The employees were super kind and helpful on opening day. I will not judge anyone with a $52 Erewhon tote bag, because I have a $50 Louis Vuitton tote bag too.
If you don't want to wait, make sure to order ahead on the Erewhon website.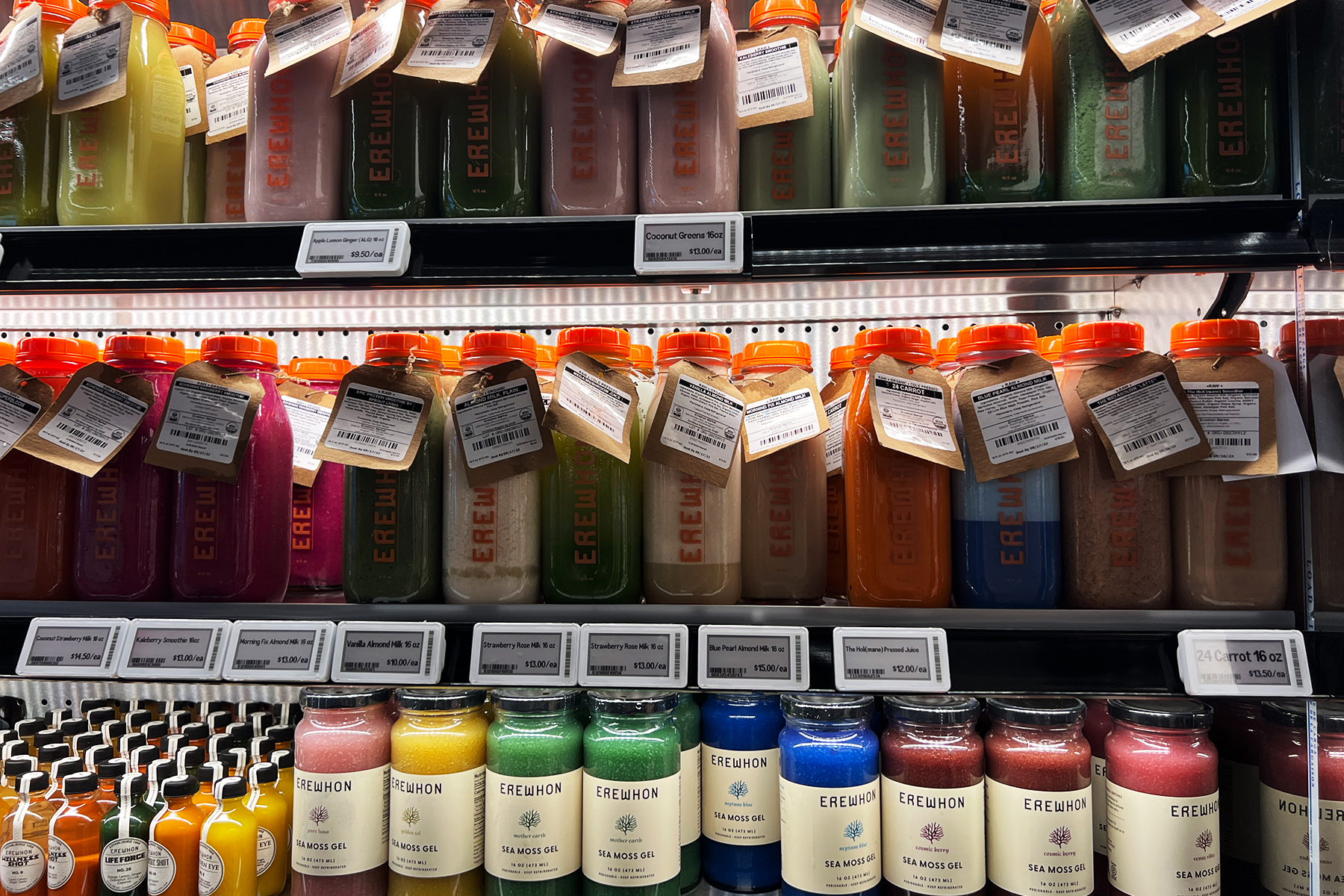 Erewhon Pasadena
475 S Lake Ave
Pasadena, CA 91101
(626) 600-5665