Golf Inspiration for Beginners
After years of scoffing over golf, I somehow ended up picking up the sport. There were personal reasons, but I managed to get over it, as many things in life. Mario took me out to the driving range a few times, and it was fun even though his clubs are suited for men. I thought I was bad because I kept hitting the mat. It turns out I just needed the right clubs.
picking out your clubs
In all honesty, do your research. Watch all the videos and read all the blog posts about the pros and cons of each golf club. There are many different types for different situations, whether you want to go for distance, speed, airtime, etc. You also have to consider the brand options as well. It's about what fits your objectives best. Golf doesn't have to be expensive.
Back in May, I walked into Golf Galaxy with the TaylorMade M4s in mind. I wanted to buy a small iron set, but the M4 was out of stock. I walked out with the TaylorMade RBZ SpeedLite set. My logic was that if I go for a starter brand and end up liking golf, I'll end up spending more money on something I actually wanted. One of my important life lessons is; if you have the means, spend more on something you wanted in the first place or else you'll spend time yearning for it. I spent so much money on cheaper things because I didn't have the guts to go for the bougie option to begin with. I bought so many Coach handbags when I could've bought a Louis Vuitton bag when the Speedy was still under $1,000. You live and you learn.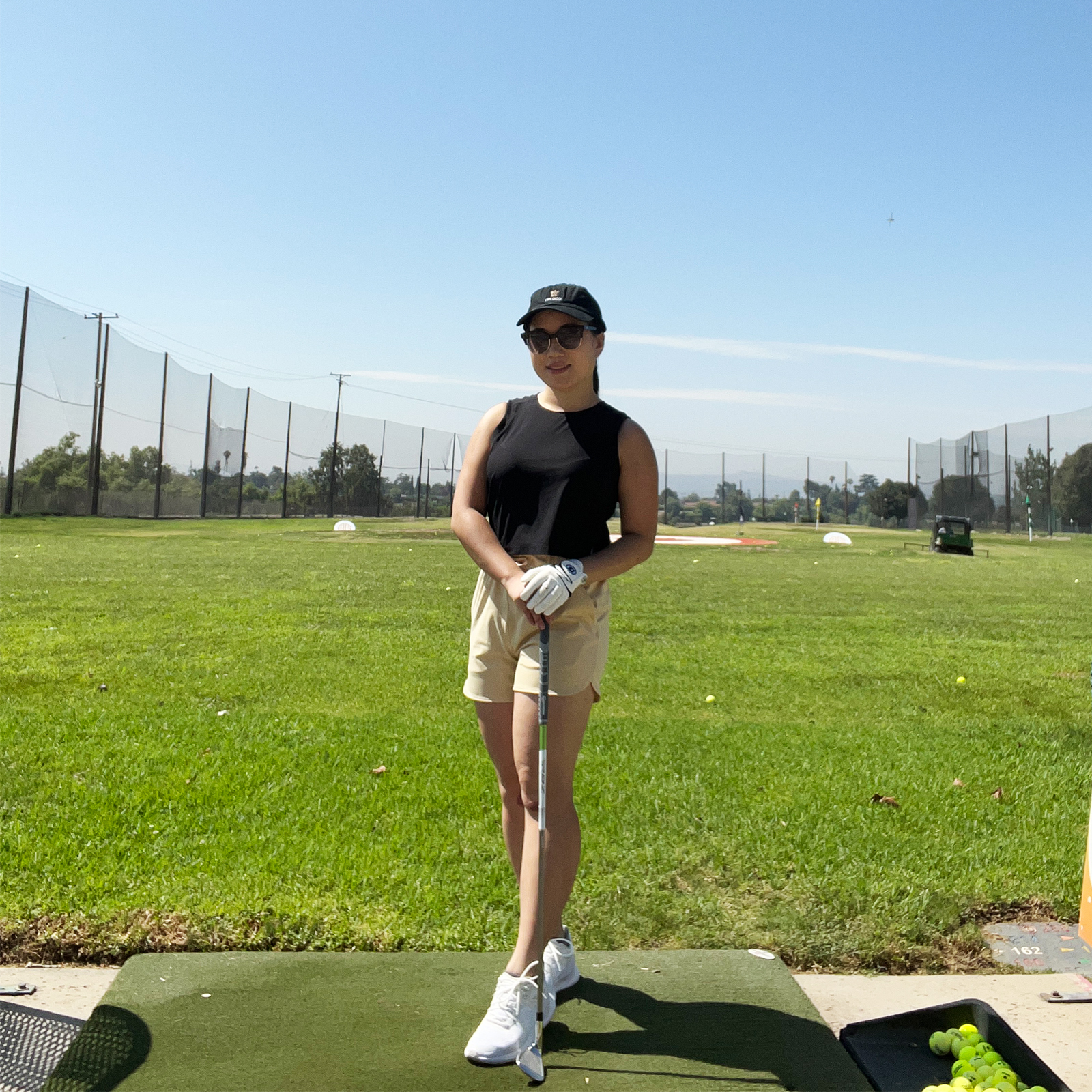 my experience so far
I knew I had to practice a lot. Buying buckets of golf balls adds up quickly, so I bought a membership pass to a local golf course. The membership comes with unlimited buckets and free access to the course. I haven't been to the course yet but shot dozens of buckets at this point. There were people at the driving range who gave me pointers; looking at the ball while swinging with my shoulders. I went from hitting the greens most of the time to getting a lot of air time.
Golf fashion is something else. Some courses have a specific dress code where a polo shirt is required. Since I'm spending most of my time at the driving range, I've kept my style simple. I usually go with a sleeveless top to work on my tan, and pair it with shorts or skirts from Lululemon. Lululemon has some great options at a cost. A hat is definitely a must, especially if you're out in the sun! There are cute outfits I want to try out whenever I make it out to the course!
One of the biggest recommendations I've yet to pick up is getting a personal trainer to help set you up with good posture and rhythm.
golf accessories
No, you don't need the Louis Vuitton Golf Covers. The golf accessories market is HUGE! I didn't know people make a personality out of golf covers, towels, etc. Here's what I have:
Water Brush: When you're golfing, your clubs are bound to get dirty. The water brush is perfect because you just squeeze the brush and water come out. Perfect for getting dried mud off!
Golf Towel: Perfect for drying your clubs and getting any minor dirt off.
Golf Ball Marker: Mario recommended this to me, but a great way to mark your ball on the putting green if it's in the way of someone else's.
Lululemon Golf Pouch: Okay, I overdid this one but it's still better than the Louis Vuitton Golf Pouch option. I wanted a cute external accessory to store my 3 TaylorMade TP5x golf balls.
Golf Club Covers: People mostly have club covers for their drivers, woods, and hybrids. I use my default TaylorMade covers, but I'm always open to giving my driver a personality one of these days.
the shift in golf culture
Growing up, I thought golf was for the ultra-rich. In modern times, golf is accessible to everyone. You don't need to go talk about business opportunities at the course now. It can be a personal getaway, especially since it's a sport you can play by yourself. Golf is casual, but still a bit posh.
The irony is that I used to complain a lot over paying a monthly fee for a Disney Annual Pass, but I'm out here paying slightly more for a Golf pass. 100% worth.