The Apple AirTag Experience
When the Apple AirTag first came out, I was a bit skeptical about its functionalities. What can I use it for? Why do I want to use it to begin with? After some research, I realize the AirTag is Apple's version of the Tile. It utilizes Bluetooth and geolocation technologies to broadcast a signal for tracking purposes.
The best thing about the Apple AirTag is that you can turn an object into a pseudo Internet of Things (IoT) device. I learned about IoT about 8 years ago and the thought of making everyday items interface with the internet is wild. Why would I want a refrigerator to connect to the internet and send a notification to my phone when I'm low in kombucha? Okay, maybe I understand wanting to remotely connect to your Roomba at home to vacuum the home when you're at work. Technology is great, but with great power comes great responsibility. Hackers love IoT devices – especially when they can connect to one from a foreign country. The last thing you want is to be spied on (other than having your device used as part of a botnet attack).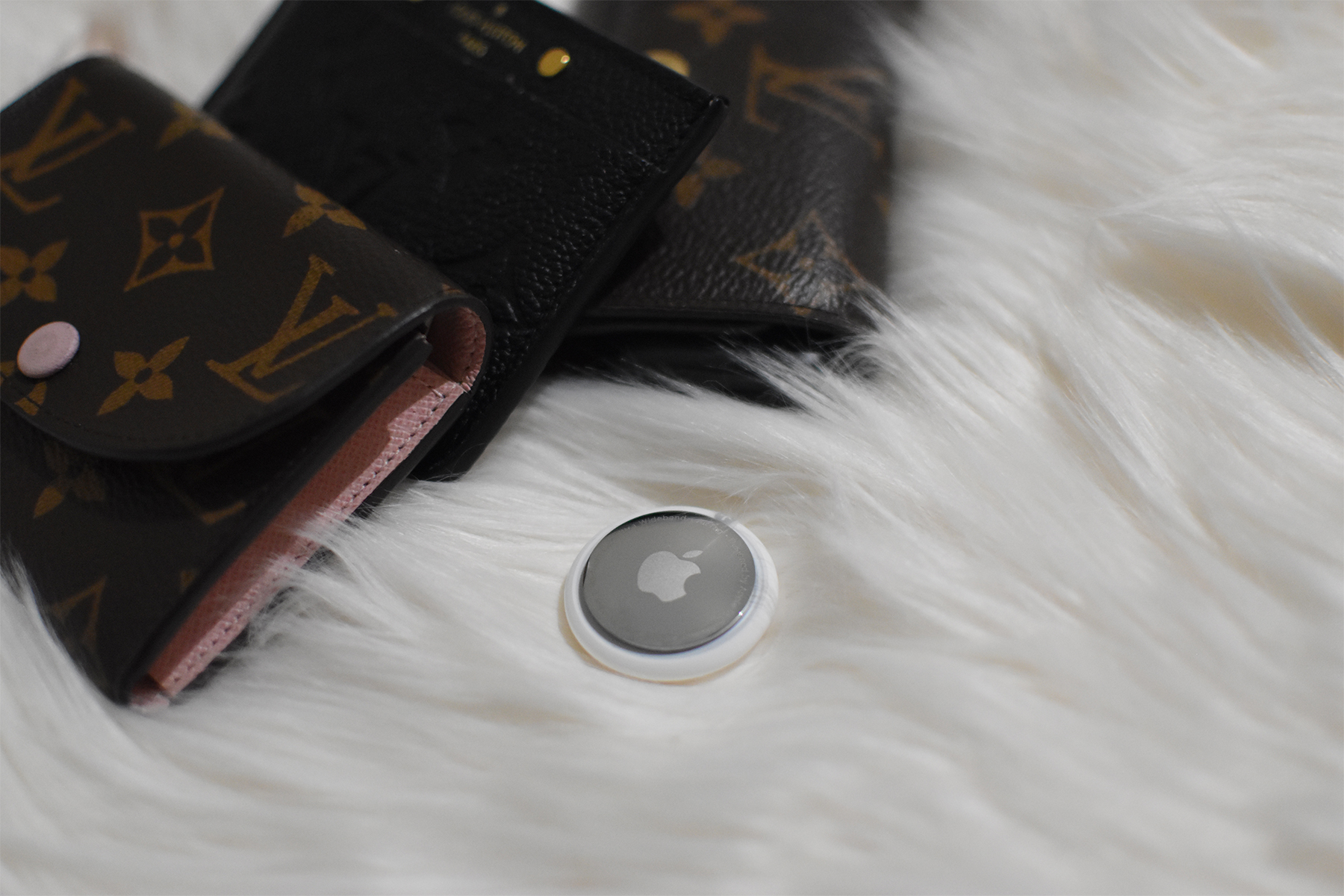 basic use cases
I feel comfortable enough about the Apple AirTag's security. Once they're linked to your Apple ID, you can't intercept the ownership unless you reset the AirTag completely. Big plus they have end-to-end encryption to keep your geolocation and other data safe. If you need ideas on how to use the Apple AirTag, you can consider the following:
Pet: The AirTag is perfect for tracking pets – especially when you take them out often. You can find a pet collar that allows for AirTag integration or buy a separate holder to clip on the collar. It's a bit bulky for a cat, so use it with caution.
People: Not for literal stalking purposes, but if you're at a festival or large event, it's worth putting an AirTag with that friend with an Android phone. For iPhones, you're better off adding them to Find My Friends/People.
Luggage: If you're traveling and scared of your checked-in luggage getting lost, putting one in each of your luggage will save you some headache. You can also put one in each of your carry-on if you're balling.
Car: An Apple AirTag is one of the cheapest ways to keep track of your car's location (or even bike). Even though it doesn't send a live GPS signal, at least it is beaconing to the last known location or relies on the signal of nearby devices. This is perfect when you forget where you parked. Worst case scenario, if something happens, you can try to locate your car.
Wallet/Keys: If you're known to misplace your wallet and/or keys often, this is the perfect fit. Attach a keyring to hold your apple AirTag and you're good to go! There are lots of options out in the market if you don't want to splurge on the Hermès version.
Retrospectively, the Apple AirTag can be used for evil as well. A creep can slip one into your belongings and you might not know until it's too late. It's good to be cautious but not paranoid (easier said than done). There are Bluetooth scanners out there.
we stan the airtag
When there is a certain distance between you and the AirTag (that is not in the exception/allow list), you receive a notification of the item being left behind. The Find My app has a map showing the approximate location. It'll give you a nice estimate based on the last confirmed geolocation beacon.
When you use the AirTag, you'd want to be conspicuous with placement. The last thing you want is for your AirTag to be found and removed from your lost items.
What can you use the Apple AirTag for?