The Rams VIP Experience at Sofi Stadium
Last month, Mario and I went to a Rams game at Sofi Stadium in Inglewood. We had tickets to the VIP suite. Even though the Rams didn't win, we had an amazing experience. It's about having a great time. LA is diverse when it comes to the fanbase. We didn't have a home football team for the longest time, and people swore their loyalty to other teams. It's all good, Mario and I swear to the house of Rams.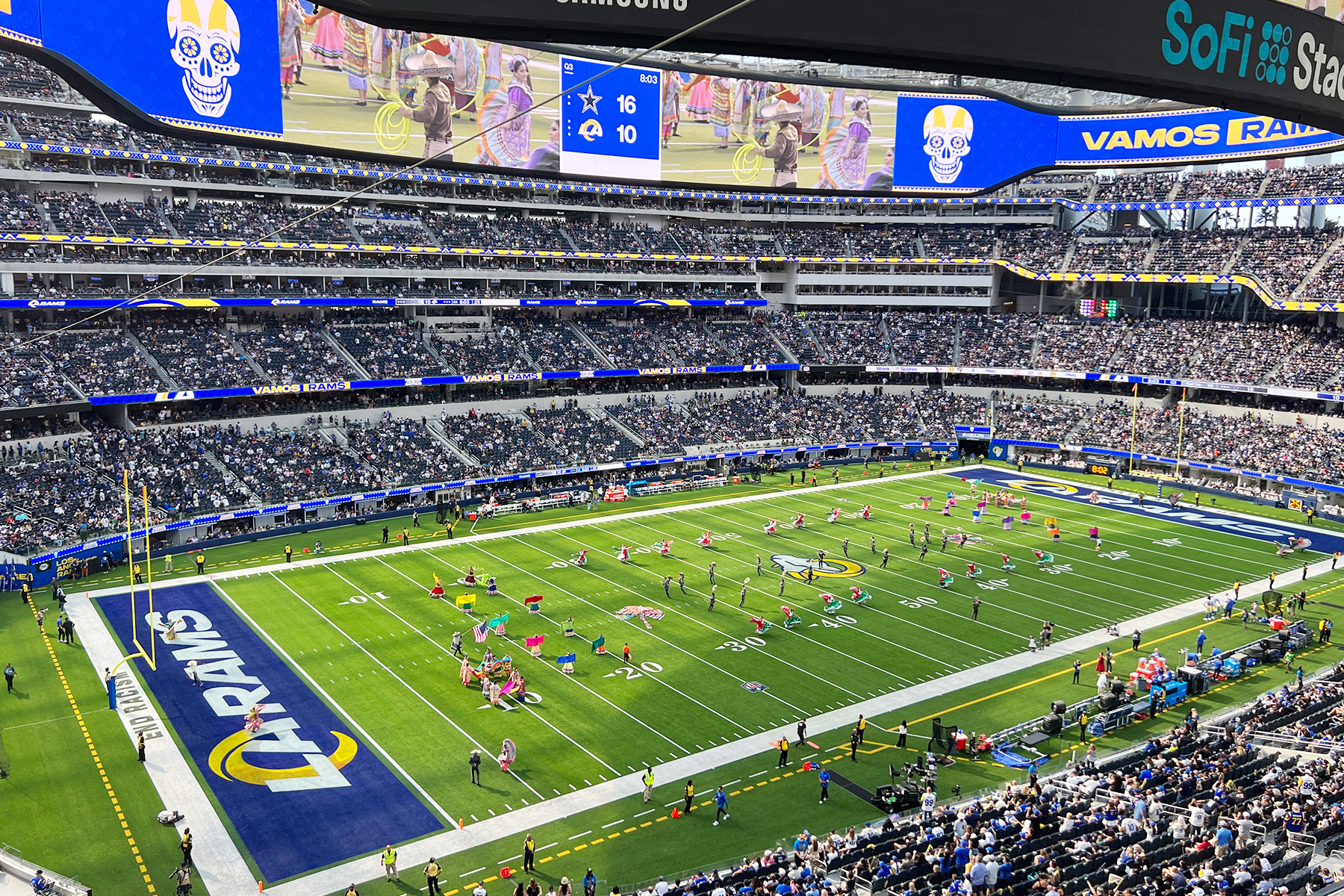 The Transportation Strategy
Sofi Stadium being in Inglewood was definitely a strategic ploy. Inglewood isn't the best community, and getting in and out is a hassle. You can opt to park on-site, but this will cost $$$, and you'd have to go early. Otherwise, we found using rideshare worthwhile. It was a bit of a nightmare leaving because the designated pick-up spot is at The Forum across the street, so you'd need to go for a short walk.
The Stadium
The Rams stadium is amazing! The surround sound was on point. You know what's going on at all times. I didn't realize how small the football field actually is. I was looking at the jumbotron more than anything. Their gift shop is huge! There is a section for everything, including Rams-branded golf tees. I ended up getting a crop top and stole some of Mario's Rams golf tees.
The biggest thing to be wary of is the fact Los Angeles doesn't know how to act when it comes to sports. We have unnecessary fights because someone doesn't respect somebody else's team of choice. Wear the merchandise and keep your mouth shut.
The VIP Experience
We had a separate VIP entrance, which didn't feel very VIP at all because there was quite a line. Maybe the logistics that day wasn't on point. Once we passed security, it was a little hectic until we got to the right floor and found our suite. The suite required us to scan our tickets to unlock the door. Our suite was stocked with a ton of food options, including sausages, sliders, tacos, Thai shrimp salad, and charcuterie. There was also a stocked fridge with wine, beer, and seltzer. No one is leaving hungry or thirsty!
I found myself standing up 99% of the game. Even though the Rams lost, I had an amazing time. The energy from the crowd is something else. I love that there is an on-site DJ to keep the crowd engaged. You can feel the Los Angeles spirit through some of the songs… Like Tupac's California Love.